RVing provides the opportunity to make memories with family and friends. In addition, outdoor enthusiasts love how an RV gets them closer to nature. You can spend a weekend or all year camped by your favorite fishing hole or finding new places to explore when you own an RV. Here, we look at our favorite hiking spots in Bath, New York, to help you explore your world.
Finger Lakes Trail/North Country Trail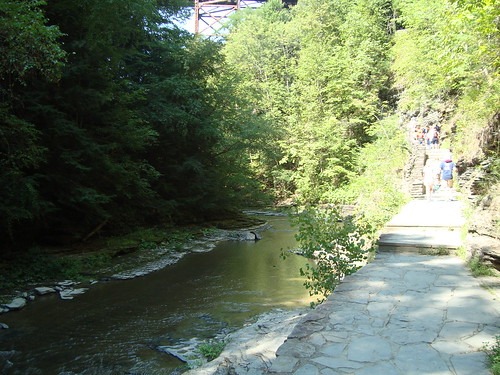 The Finger Lakes Trail is part of the larger North Country Trail and runs east from Allegany State Park near Lake Erie to Slide Mountain in Catskill Park. Finger Lakes Trail offers over 50 miles of main trail hiking and over 20 miles of branch and loop trails to explore. The 10-mile section we highlight today sits near the middle, around Bath. We recommend the Hammondsport-Bath KOA Resort for its convenient location along the trail and its RV-friendly facilities.
If you choose not to spend the night, you can access the trail in Bath from Sand Pit Road. You can park along the shoulder. Trail elevation starts at 1,245 feet as you head east, following the white trail markings. You should know that this early section of the trail runs through private property, so no camping or fires are permitted. The first mile has you climbing Kershener Hill to over 1,600 feet, with some immediate views to your left in the first quarter-mile.
You'll skirt a cornfield and pond as you climb this steep portion of the trail before entering the forest. After hiking 1.5 miles, the trail reaches a blue-blazed branch that leads to the KOA campground. You'd pick up the Finger Lakes Trail from here if you camped there. You can follow it left toward Sand Pit Road, but we recommend you turn right and continue east.
The trail passes underneath power lines and through fields where you find the Hickory Hill Lean-To before reentering the woods. Hickory Hill Lean-To has an outdoor toilet, picnic table, and fire ring and is the only place to camp on this section of trail. About a mile from the blue trail and a 200-foot ascent, you arrive at a trail register at 1,801 feet. Seasoned hikers always leave a note, usually with inspirational words and their names. These registers provide hikers with updates on trail conditions and a way for rescuers to track hikers' movements in the event someone gets lost.
From here, the trail descends for nearly 1 mile until it ascends again to 1,915 feet. Finally, you have reached Pucker Bush Overlook, roughly halfway, and the trail's highest point. Here, you have stone benches to rest on as well as some spectacular views.
Just beyond Pucker Bush Overlook, you come to Bristol Hills Trail on your right, blazed with orange. However, staying on Finger Lakes Trail for the next 2.5 miles features rolling sections of woodland, ridges, and river terrain. Then you reach the Mitchellsville Creek Gorge section, a popular trail.
The final leg of this portion takes you along dirt roads, railroad tracks, and through the woods around Kueka Lake as you descend to 824 feet. This part of the trail ends at Highway 54 at the Vinehurst Motel and additional parking.
Mossy Bank Park
If you're looking for an easy hike, Mossy Bank Park provides a gentle climb on a decent dirt road to an overlook 500 feet above the Cohocton River Valley. The park itself sits at the bottom of the bluff and has a play area for children, pavilions, and a small nature center. However, you can take several side trails that branch off of this dirt road for a more challenging hike.
The park has over 160 acres of woodland to explore via trails or through groves. You can park at the nature center and hike the dirt road, which loops back to the nature center. Or, you can drive up to the overlook and park in a small pull-over section near the covered pavilion. The park gate is open from May 1 to October 15, but visitors can park outside the gate and hike when the park and nature center is closed the rest of the year.
Keuka Lake State Park
Located a short drive north of Bath, you'll find the Keuka Lake State Park. The park has plenty of RV sites for rent with electricity and shower facilities, plus a playground and miles of hiking trails. Parkgoers can enjoy fishing, hiking, and hunting. Other amenities include a boat ramp, a picnic shelter, and pavilions, which are pet-friendly. And you can snowshoe or cross-country ski during the winter months.
From the campground, you have access to eight trails. The 1.3-mile Vineyard Trail wanders through the woods, skirting picturesque vineyards. The Red, White, Blue, Purple, and Yellow trails run only about a half-mile and all end up on the shores of Keuka Lake where you can picnic, swim, canoe, fish, or enjoy the playground and fields.
More experienced hikers will enjoy the Green and Orange trails, which are over a mile long — the Green Trail loops from the Twin Fawns campsite to the Esperanza View campsite. You can pick up the Orange Trail about one-third of the way in on the Green Trail from Twin Fawns. The Orange Trail wends its way through the forest in a loop. One section breaks off to a grassy overlook of the lake offering splendid views.
Keuka Lake is a popular hunting destination. So we recommend you check with park officials before hiking to avoid active hunting areas. And because the park is so popular, we recommend you reserve an RV site in advance.
We hope you enjoyed this list of fun hiking spots around Bath. Of course, we don't have space to list all the great hiking destinations in the area, and we'd love to hear your favorite. Contact us with the details and we'll do our best to update our list so everyone can enjoy the best hikes around.