As warm weather approaches, it's easy to hear the siren call of a sunny meal outdoors. If you're looking for a great picnic spot around Watertown, we have several suggestions. These parks and paths feature all the amenities you need to dine al fresco and take in the air.
Historic Thompson Park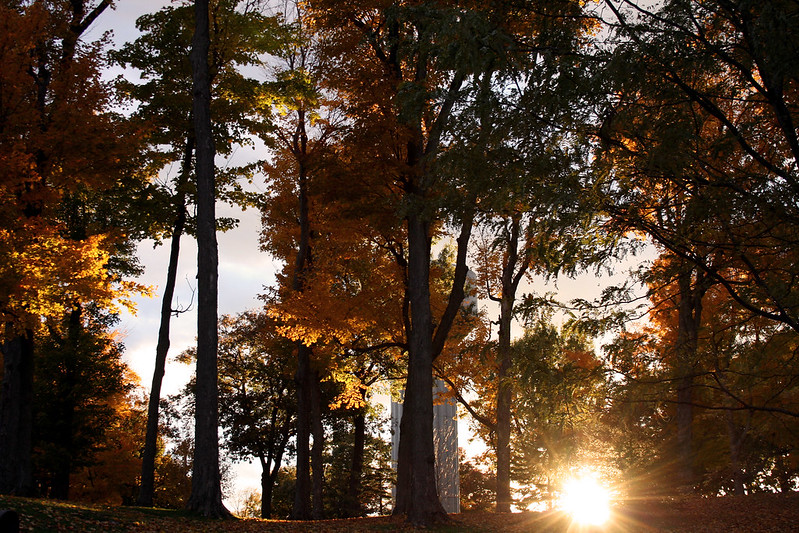 One of Waterton's prime highlights, Historic Thompson Park offers enough amenities to fill an entire day. Come early, enjoy a midday picnic to refuel, and keep the fun going all afternoon. This park features a creative playground, tennis courts, an 18-hole golf course, and exercise trails. In summer, you can enjoy the municipal pool and splash pad, while winter offers sledding and cross-country ski trails.
Thompson Park is also home to Zoo New York. This facility houses elk, bobcats, lynx, mountain lions, river otters, black bears, and more. The Children's Farm has friendly animals, including baby goats, chickens, and hogs, while the Butterfly House is awash with colorful residents.
For your picnic, you can spread out on one of the park's grassy fields at any time. Other areas in the park are available for reservation if you want to secure a spot for a party or gathering. When not reserved, they're available on a first-come, first-served basis. You'll find benches, picnic tables, and grills in the picnic area beside the playground.
The large stone pavilion between the playground and zoo features multiple picnic tables and partial coverage. The rotary pavilion between the golf course and zoo parking lot is fully covered and features a grill and picnic tables under the covering and in the sunny grass beside it. With so many options, you can create the perfect picnic experience for any occasion.
Location: One Thompson Park, Watertown.
Veterans Memorial Riverwalk
Veterans Memorial Riverwalk is located between Newell Street/Arch Street and Mill Street, with convenient car parking on either end. Walking and biking are both permitted along the paved trail, which runs for about a quarter mile.
Just a short distance from the Square, this is a prime spot for strolling and picnicking. You'll find a small pavilion, around 10 picnic tables, charcoal grills, and benches along this short walkway, offering ample options for a midday meal. Pets are welcome, so you can bring the whole family along. Veterans Memorial Riverwalk features restrooms and drinking fountains that are open seasonally. There's even an observation deck where you can drop a line and enjoy some fishing.
Location: Parking near Newell Street, Watertown.
Bicentennial Park
Bicentennial Park sits just past the fairgrounds along the Black River. This small park offers green spaces that are popular for picnicking. With convenient access to the river, this park is a great choice if you're looking for somewhere to stop and dine before, during, or after a river adventure.
You can also incorporate a hike into your afternoon when you picnic here. The Bicentennial Park Trail runs for about 0.7 miles and offers shady stretches and some picturesque views. The trail begins with a blacktop surface but gradually transitions to fine gravel as it reaches the Black River. If you continue the full length of the trail, it eventually becomes a rustic dirt path running uphill to the JCC parking lot.
Location: 600 William R. Field Drive, Watertown.
Marble Street Park
Marble Street Park is a hidden gem in Watertown. Little known and often underrated, this tiny park provides the perfect place for a quiet, secluded picnic. You'll find a short trail here that runs along the rocky banks of the Black River. Though it's brief, this is a tricky walk that's best for sure-footed adventurers. You can celebrate your achievement along the short, steep walk by settling in for a picnic among the large boulders. You can even enjoy some fishing along the shores as you rest.
If you're not up for the hike, you can also settle in under the covered pavilion and enjoy your meal at the picnic tables. You'll even find a BBQ grill available for use. The park features a baseball diamond with bleachers where you could grab a seat as well. The park has restrooms on-site, but they're not always open.
Location: Marble Street off Eastern Blvd., Watertown.
Waterworks Park
Waterworks Park sits along the Black River, offering easy access to canoeing, kayaking, rafting, and fishing. This is a great stop if you're looking to picnic midway through a river adventure. The park has grassy spots where you can spread a blanket, picnic tables and grills for your al fresco meal. The park even has trash cans for convenient cleanup when you're done eating.
If you're interested in taking a stroll, you'll find a short trail that's under a mile in length. This connects to the Black River Trail, which gives you about 5.5 miles to enjoy if you're interested in a longer hike before or after your picnic.
Location: 1630 Huntington Street, Watertown.
Westcott Beach State Park
Westcott Beach State Park is just a short drive from Watertown. It features a picnic area equipped with tables, grills, and some pavilions for shade. The park even has a concession stand, so you can supplement your picnic with cold drinks or snacks if you need a little more than what you've packed. The park features a quarter-mile stretch of beach on Lake Ontario with lifeguards on duty so you can enjoy a swim or stretch out in the sun during your visit. You'll find changing rooms and restrooms on hand, as well.
Kids can run off extra energy at the playground or play on the basketball court, soccer field, or baseball field. If a picnic doesn't give you enough time here, you can book a campsite and stay overnight in the tent or RV camping areas.
Location: Route 3, Henderson.
Do you know of other great picnic spots around Watertown that we've missed? Contact our team at Wilkins RV and let us know. We love having great recommendations for our customers.