We're trying to sell 600 UNITS in 60 DAYS and we need your help! We've got a great RV sale going on with all of our 2018 and 2019 recreational vehicles to meet our goal. We are asking for $0 down with the purchase of one of our Wilkins RV 600 RVs for sale. Because we're racing to the finish line, we need your help to complete it in the next 60 days. Read below to find out more…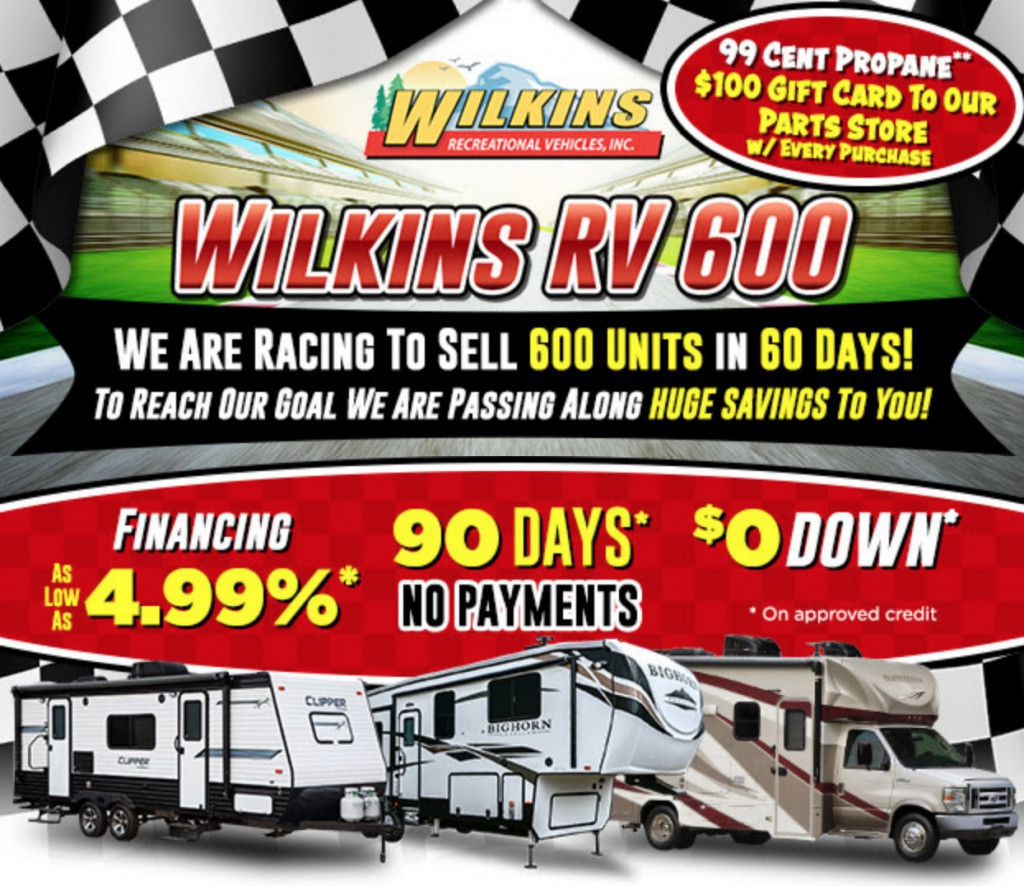 To reach our goal we are passing along HUGE SAVINGS to YOU! We have 99 cent propane as well as a $100 gift card to our accessory store if you purchase one of our RVs. We are selling travel trailers, fifth wheels, and motorhomes for less than you can imagine!
We've got popular brands such as the Coachmen RV Clipper Cadet, the Forest River Cherokee Wolf Pup, and the Jayco Jay Flight. With amazing manufacturers and brands, you can't go wrong with one of these amazing RVs for sale. Designers crafted these floorplans in such a way that they pack amenities in, while still creating a spacious interior. How can you not love that?!
After buying one of these amazing recreational vehicles, you'll also have a big chance to win a trip to Wally World Riverside resort. If you need a vacation, this could be your opportunity to finally sit back and relax and enjoy the warm weather… and your new RV!
You won't want to miss out on these awesome SAVINGS! You won't even have to start payments for 90 days, and you can find a travel trailer for as low as $93 a month. Come by and see our RV sales today! Contact us for more details, and if you have any questions our friendly staff is always happy to help with whatever you are looking for. We're racing for the finish line, and we hope you'll help us get there with this unbelievable RV sale! We wish you happy camping and great sales.