Looking to score a brand new pop up camper at an unbelievably low price? You can during our Clipper Closeout Sale! We're dropping the prices on these fantastic pop up campers for sale, so check out what we still have left in our inventory before it's gone!

Why Buy a Pop Up Camper?
Pop up campers are the perfect intersection between tent camping and going with a full-on RV. It gives you the best of both worlds: the ease of setting up camp – no more cumbersome tent poles or leaky rain flies – and the amenities an RV provides, like an indoor kitchen, convertible dinette, and two spacious beds. Plus, they're lightweight enough that they can be towed by a variety of vehicles, and their price tag make it affordable for every family as you look at your camper options.
If you buy now, we're also offering free storage 'til Spring!
Rugged and Durable Construction
Our Clipper pop up campers for sale are easy to tow wherever you go! You'll have confidence and the peace of mind you want when camping, since the construction offers more protection against the weather and other elements of nature than a tent offers.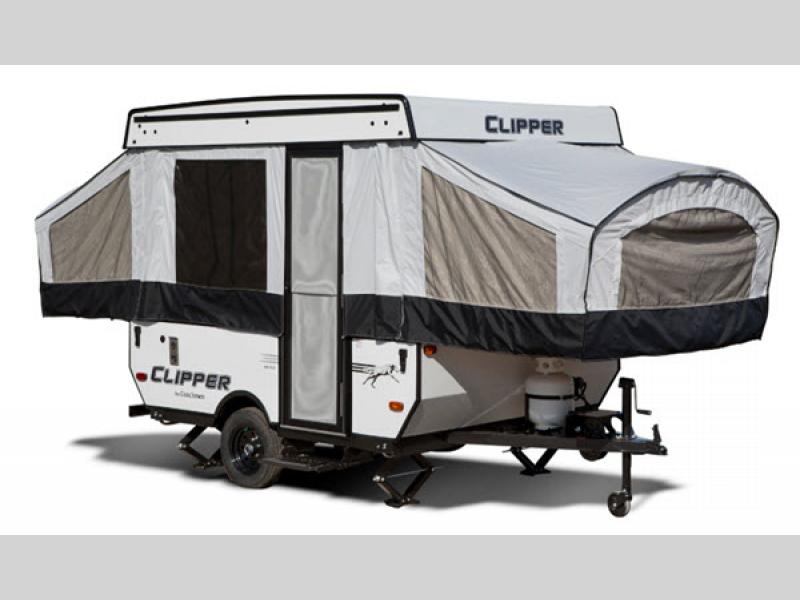 Check out some of these construction features:
Tubular Steel Frame
Dual Drive Winch
Heavy Duty Dolly Jack with Wheel
Wide Trac Ultralube Spring Axle
Electric Brakes
Radial Tires
Scissor Style Jacks with Pads (4)
Goshen Lift System with Double Arms
Laminated Aluminum Skin Walls
LED Exterior Lights
4 Layer Laminated Seamless Fiberglass Roof Prebraced for A/C
Click here to see the full list of features for each Coachmen Clipper pop up camper in our inventory.
"Just Right" Interior Space
Once you step foot inside a Clipper pop up camper, you'll know exactly why this is the perfect camper that falls in between a tent and an RV. Between a sofa sleeper, a convertible dinette, and side bed options that range in size all the way up to a Queen and King bunk, depending on floor plan, you've got plenty of room for the family to bunk down at the end of the day and sleep comfortably. Thanks to the 20,000 BTU furnace and "Zero Exposure" bunk technology which insulates the side bunks, you'll stay warm all night long. And having a roof over your head means that even a rainy night while camping won't get you down!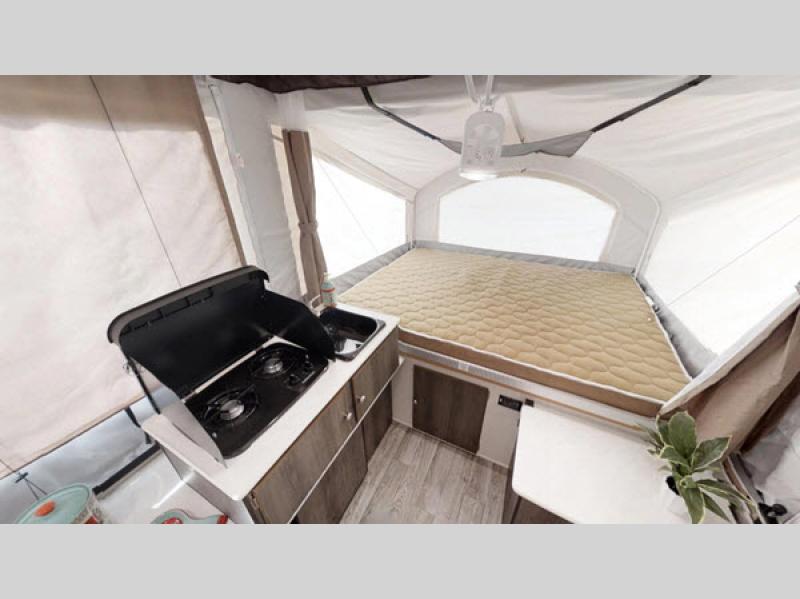 Plus, you have room to quickly prep an easy meal. Get up in the morning and heat up some coffee and a pot of oatmeal to start the day off right. You'll have plenty of space with the two burner cooktop, sink, and mini fridge, and just enough cabinet and drawer space to store your dry goods.
Several Floor Plans to Discover
Our Coachmen RV Clipper pop up campers for sale come in a variety of floor plans, and during our Clipper Closeout Sale, you can pocket significant savings. Contact us today to take a look or if you have any questions. Since we're offering free storage 'til Spring, now is a great time to buy and rest assured you have a place to put your new pop up camper until it's time to head out for your Spring camping trips. Take a look at our Coachmen Clipper pop up campers for sale today!