Coachmen Days are coming up at Wilkins RV, and we're here to let you know about the different models and RV types we have available. Wilkins RV wants to help you find the Coachmen Floor Plan that will fit your need; we have them all, from the bunkhouse to the couple's coach model to slides to no slides. Coachmen Days are coming up, June 1st-3rd; come into your local Wilkins Dealership for giveaways and extra savings and to meet our reps coming down and giving demos during Coachmen Days.
Travel Trailers
Coachmen have several brands like Freedom Express, Catalina, and Apex Nano. Their brands range with features like but are not limited to fiberglass to aluminum and bunkhouse to couple's coaches. Across their towable camper brands, they range in length and weight from 23′ – 38′ and 3634 lbs – 8673 lbs; if you are concerned if your vehicle can tow it, you can always check out Wilkins RV Tow Guide and check to see if your truck is compatible! Coachmen brands use their indoor and outdoor space with the help of slides, awnings, and outdoor kitchen pull-out and/or outdoor entertainment options. They want you to experience the camping and outdoor lifestyle that you set out to do. Below are the models Wilkins RV carries and some features each brand and their models have in common.
Bunkhouse
No bunks
Outdoor Kitchen
Fiberglass
Rear Bath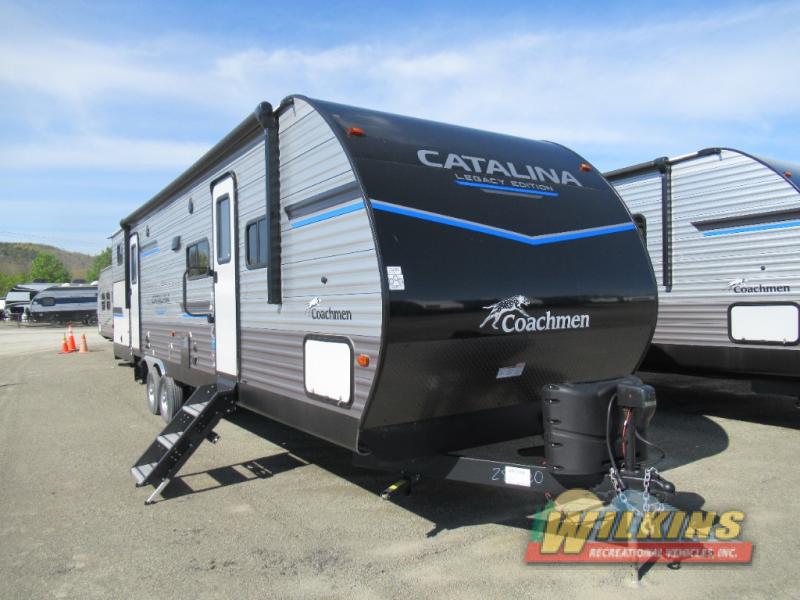 Couple's Coach
Aluminum Siding
Rear Bath
bunkhouse
Fireplace
fiberglass
fireplace
outdoor kitchen
No bunks
Bunkhouse
Toy Haulers
Catalina Trail Blazer Travel Trailer Toy Hauler as spacious aluminum siding models. They have great garage spaces where you will be able to haul anything. Wilkins RVs' Trail Blazers are 36′ long and 7k lbs – 7.6k lbs. Some features include full bathrooms, spacious floor plans, party decks, and private bedrooms.
private bedroom
aluminum siding
Great Kitchen Space
Fifth Wheels
Chaparral and Brookstone by Coachmen range from lightweight to heavy-duty models. The model's weight runs from 8692 lbs to 13155 lbs; it can be towed with most trucks, but always double-check our tow guide before you buy! Coachmen's Brookstone and all Chapparel models have spacious floor plans for both couple's coaches and bunkhouses; they make the most of every floor plan they have designed. Several of these fifth wheels' main bedrooms have a bedroom slide; never hit your shins in the middle of the night again! You'll never worry about storage and space with any of these models. These campers are great for families who want to travel all over the U.S.! Check out Wilkins RV Coachmen Fifth wheels below for more information.
bunkhouse
Couple's coach
Master Bed slide
Kitchen Island
Dinette table
Couple's coach
bunkhouse
kitchen island
spacious
Bedroom slide
Destination Trailers
Coachmen's Catalina Destination Trailer is a spacious mid-bunk floorplan that is great for families. The mid-bunk floor plan is excellent for families who need an extra bed or go off and have quiet time. These floorplans are great because they add slides that add so much room that it feels like you are back home! Destination trailers are great for people who want to escape for the season; they have all the space you need. They are meant to stay in a place for long term; they aren't made to change campsites every other night. If you're looking for a place to get away, find a piece of land, park your destination trailer on it, and enjoy being outside!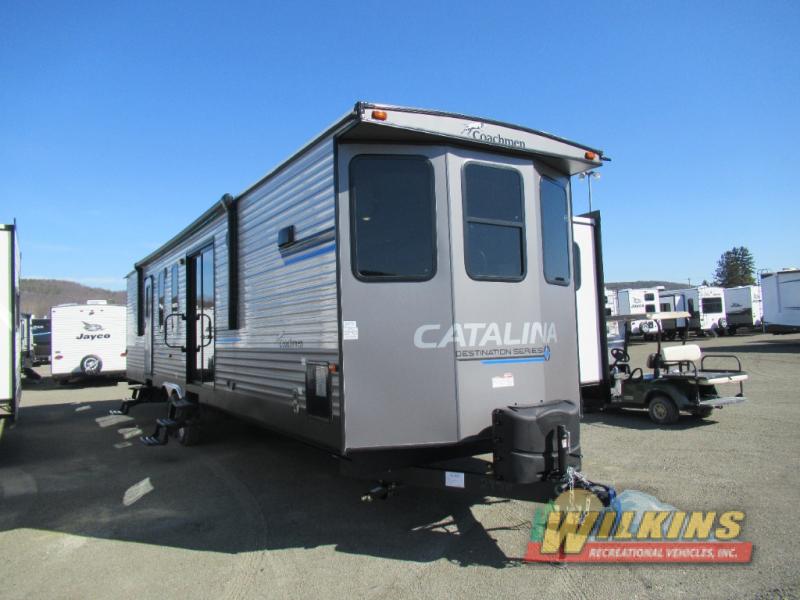 Mid bunk
Bed Room slide
Bar top seating
Fireplace
Big Bathroom
Motorhomes
Leprechaun Class C and Leprechaun Premier Class, and Nova Class B motorhomes are great motorhomes that are ready for a fun weekend adventure. Both Leprechauns have many slides that help you make the most out of your class c camper; their range of floor plans will shock you with how much room you will have! They range in floorplans that will fit your lifestyle. Some of these models have great outdoor living, like a pull-out outdoor kitchen that will make tailgating so much more fun that you'll invite people to come over and hang out! The Class B Motorhome, Nova, is great if you are wanting to travel incognito and be long term on the road. They are convenient and functional for those who want to stealth camp in cities and travel more affordably,.
Bed slide
great Kitchen Set up
Multiple slide outs
Outdoor kitchen
No Slides
21′ long
Bathroom space
If you are interested in any of these Coachmen models we carry, come to Coachmen Days this weekend and see them in person. Keep an eye this week and see what models we are posting about on facebook and Instagram to get a sneak of what is to come! Come in to your local Wilkins RV or contact us today; we would love to help you find the Coachmen RV of your dreams!