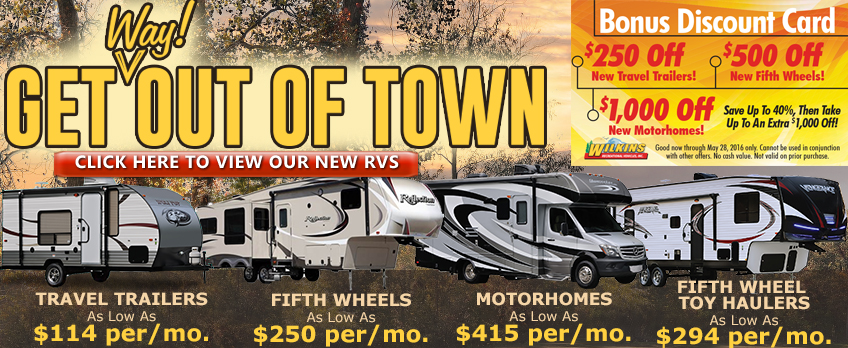 Is the warm weather getting you excited about hitting the road? Do you smell the fresh cut grass and blooming trees and think about how amazing an RV vacation would be, then realize that you don't have an RV? Not to worry! Here at Wilkins we've got an amazing selection of new and used RVs, and during our Get Out of Town Sale you will save thousands off your new RV AND get up to an additional $1000 off of your purchase.
If you're looking for an RV that is lightweight and easy to tow, look no further than the travel trailer. These RVs are perfect for small and large families and start as low as $114 a month! And, when you purchase a travel trailer you'll get an additional $250 off.
A step up from travel trailers, the fifth wheel is luxurious, spacious and super easy to tow. For as little as $250 a month you can purchase the luxury fifth wheel lifestyle. With your purchase of a new fifth wheel you'll get an additional $500 off.
If you aren't looking for a towable and just want to hop in and go, check out our selection of motorhomes. With these RVs, you don't have to bother hitching up. You just gas up and go. Starting at $415 a month, when you purchase a motorhome you get convenience and luxury. During our Get Out of Town Sale you can get an additional $1000 off your motorhome purchase.
Now, if you want to hit the road and bring your hobbies along with you, you'll want to check out our selection of toy haulers. These RVs feature cargo areas that make bringing along your toys like ATVs and motorbikes super easy. Starting at $294 a month, you get a house on wheels and a garage!
Check out our huge selection of RV specials in New York and stop by during our sale to find the RV of your dreams. Our experienced team is excited to serve your unique needs and answer any questions you have.