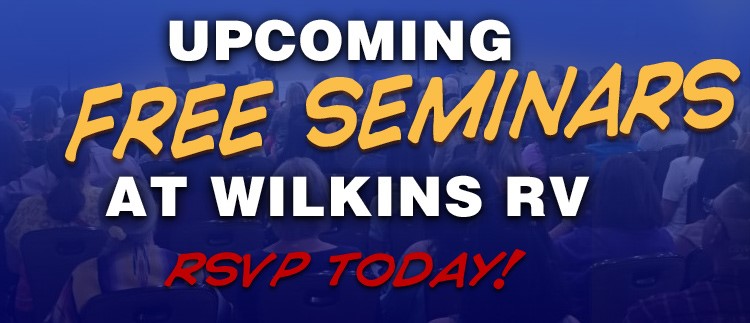 Don't miss out on our next two upcoming RV seminars that you won't want to miss. We'll help get you out on the road in your RV with confidence.
Space fills up fast, so make sure you reserve your spot at these fun, informative and free information sessions as soon as possible.
RVing 101
January 20th
10:00am-11:30am
Bath, Churchville and Victor Locations


Join us for our special First Time Buyers seminar!
If you recently purchased your first RV or are thinking about living the RV lifestyle, this informative two hour session is for you. Our qualified RVIA service personnel will educate you on the secrets of RVing the fun way.
We will share many strategies, techniques and tips all designed to ease routine operational tasks so that you can focus on enjoying your new adventures in the RV lifestyle. It's the event that will show you how simple it can be, and best of all, it's free!
RV Safety and Towing Tips Seminar
February 24th
Starts at 10am –  with a 15 minute break in-between each seminar
Bath, Churchville and Victor Locations

Towing an RV requires a little extra knowledge and a few precautions to keep in mind.
In this seminar, we will educate you on the safety aspects of loading your RVs and the potential hazards and expense of exceeding the ratings of the chassis or tires.
We will cover important towing tips for increased safety and enjoyment during your RV travels. Knowing how to tow before you buy and every time you head out on the road – you will have less hassles and more fun.
Towable campers are a great way to experience affordable RV camping. This helpful seminar will get you on your way to RV fun!
Contact Us At Wilkins RV for information on our Free RV Seminars. Wilkins RV is your go-to resource for all your RV needs!