Don't miss our free RV Winterization Seminar! RSVP now for our seminar and head into the cooler months confident that your RV will stay in beautiful condition.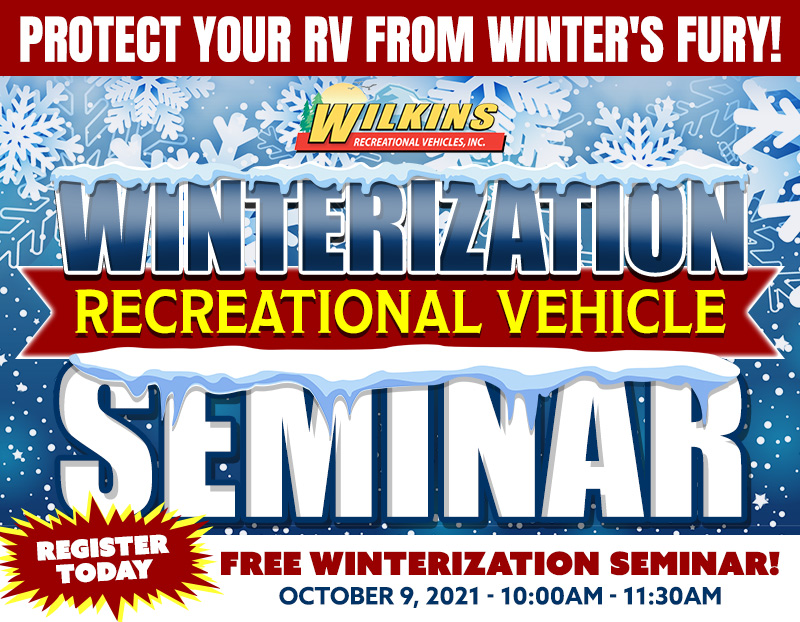 Why Winterize My RV?
Camping season is winding down for those who travel during the warmer months, and we're approaching the time to winterize your RV and put it in storage. Cold temperatures can affect the plumbing, LP, and electrical systems. Properly winterizing your RV can help you avoid preventable damage and costly repairs.
But, RV winterization can feel like a daunting task. It's not difficult, but you definitely want to do it right. We're here to help, and our RV winterization seminar can answer all your questions and walk you through winterizing your entire RV.
When and Where?
We make it easy. We're offering our RV winterization seminar at each of our four locations, so you can pick the location that's closest and most convenient for you! Just RSVP and let us know you'll be attending!
Where: Bath, Churchville, Victor, and Syracuse
When: Saturday, October 9th
What time: 10:00 – 11:30 AM
What All is Covered?
We're really here to make the RV winterization process as easy and hassle-free as possible. We're covering the following topics:
Plumbing System
Electrical System
LP System
Winterization Methods
Fall Maintenance
RV Covers vs. Tarps
Winter Chassis
Generator Mainenance
Winter Storage Tips
This is also an ideal time to schedule an RV service for any end-of-season repair for your new or used RV, or get our service technicians' help with any winterization steps you may not feel confident doing yourself. Or you can get a head start on shopping for upcoming adventures – lock in next year's vacation at this year's price by doing some savvy RV shopping now. Whatever your RV needs are, we're ready to help, so contact us today – and don't forget to reserve your spot at our free RV winterization seminar!