Join us for our Virtual RV Show! We're taking our RV show to the next level by offering you virtual tours online every day on Facebook! Get all the benefits of an RV show that's personally tailored to you – and the health and safety benefits of staying at home. Find out more below how our Virtual RV Show works!
Mark Your Calendar
We're running our Virtual RV Show from April 21-23 featuring a different RV type each day. Tune in to watch our Facebook live broadcasts to shop for the following:
Tuesday, April 21: Travel Trailers
Wednesday, April 22: Fifth Wheels
Thursday, April 23: Motor Homes
Each day at 2 pm and running for only 60 minutes, we'll offer virtual tours of the RVs you want to see. Have a special request? If there's a particular new or used RV you want to see, click on the blue "Get Personal Virtual Tour" button.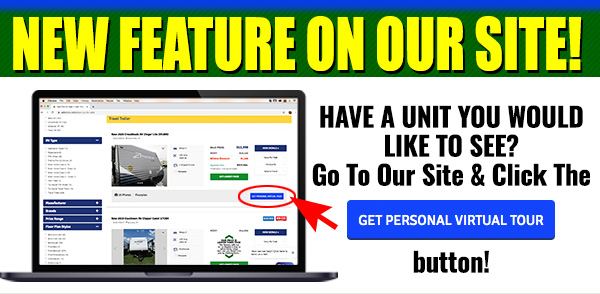 Prizes and More!
You'd expect to see prizes at an in-person RV show, so why should a Virtual RV Show be any different? We'll have a lot of fantastic prizes that you won't want to miss, and tuning in to our Facebook live broadcasts helps give you chances to win.
Curbside Pickup for RV Parts & Accessories
Need any RV parts or accessories? We can help you out! Fill out our online parts request form here, and we will be in touch to get you what you need and make arrangements for easy curbside pickup.
Covid-19 has disrupted plenty of things this year, but it doesn't have to disrupt your vacation plans or shopping for a new or used RV. We can still deliver top quality service on the best RVs around, and our Virtual RV Show on Facebook from April 21-23 make it easy for you to enjoy all the perks of a regular RV show from the comfort of your own home. Contact us if you have any questions and tune in to our Facebook live broadcasts!