Don't miss the New York Sportsmans Expo! It's right around the corner, and we'll be there – will you?
What Is It?
The New York Sportmans Expo is the premier event in New York for anyone who loves the great outdoors! It's a three day event at the Syracuse State Fairgrounds filled with seminars, exhibitors, vendors, and much, much more! Learn all about the expo and get your tickets here.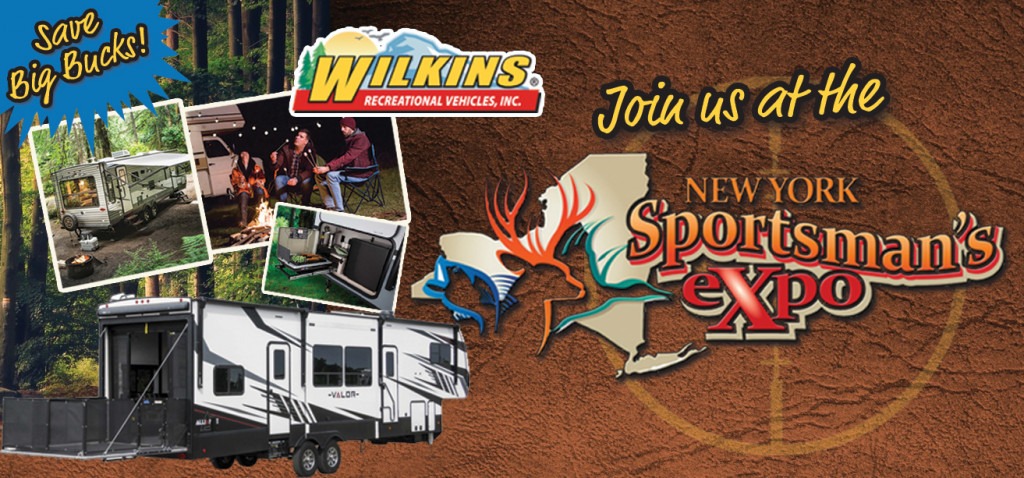 When Is It?
Mark your calendars for the New York Sportmans Expo – you won't want to miss this three day event!
Friday, January 28th … 12:00 – 7 PM
Saturday, January 29th … 9 AM – 7 PM
Sunday, January 30th … 9 AM – 7 PM
Wilkins RV at the Expo
Make sure to stop by our booth! Tour a few of our RVs we'll have on-site and register to win a Camping Package valued at over $500!
Browse Online Now
If you're just starting to shop for a new or used RV, start browsing online from our immense inventory and start making a list of units you love. We now have three dealership locations in the Syracuse area, so bring your notes about your favorite units to the New York Sportmans Expo, find our booth, and hit us up with any questions you have.
We'd love to help you and your family find the absolute perfect new or used RV for your travels this year and beyond, and we offer tremendous savings each and every day – as well as competitive RV financing that can help make your RVing dreams come true at an incredibly affordable price. The New York Sportmans Expo is a perfect launching pad to learn more about camping, traveling in an RV, and making the most of your time spent outdoors. Contact us today – or come find us at the Expo! Happy trails!