Now Through March 7!
This year is a Leap Year. Now, to celebrate the uniqueness of this year we are offering incredible deals on new travel trailers, fifth wheels and motorhomes during our Leap year Sale. Stop in to check out our huge inventory, speak with our experienced team or just walk through available units to get an idea of what might work best for your family.
Travel trailers are the perfect option for anyone seeking a lightweight, affordable and comfortable travel experience. These RVs attach to your tow vehicle's bumper via a hitch and offer everything needed to have an enjoyable family vacation on the road. Stop in to see how you can get a great trailer trailer for as low as $105 a month and a FREE $250 gift card to our parts and accessories department.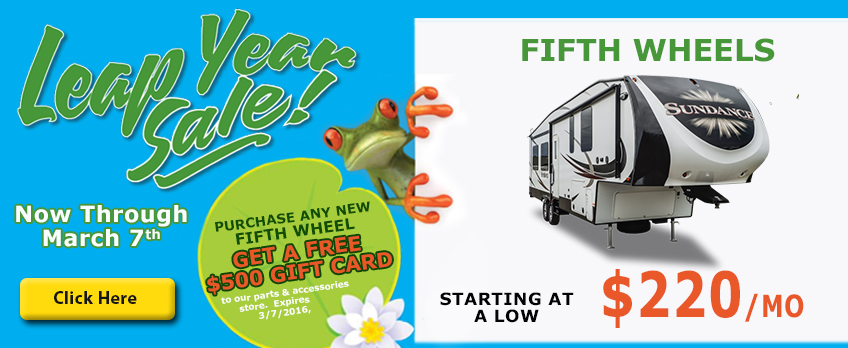 In the market for an RV that's super easy to tow and luxurious? Look no further than the fifth wheel. These RVs hook into the bed of your truck (our team can help you determine what unit would work with your tow vehicle) and offer luxurious interior accommodations. When you purchase a fifth wheel during our Leap Year Sale you'll also get a $500 gift card to our parts and accessories department.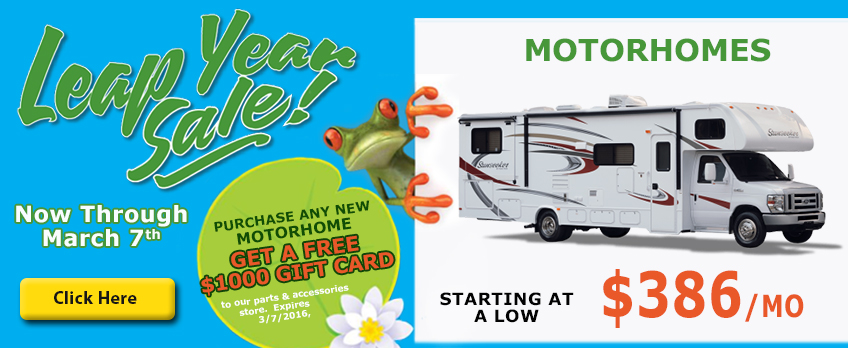 If you want the convenience of simply hopping in your RV and hitting the road you will love the motorhomes we have available. These RVs don't require any hitching up and are super easy to get in and drive. Small class C motorhomes oftentimes drive like the family van, but can sleep up to ten people depending on the floorplan, while class A motorhomes are spacious and offer tons of luxury. There's something out there for everyone. And, when you buy a motorhome from us during the sale you get a $1000 gift card to our parts and accessories department.
Stop by today to find the RV of your dreams!