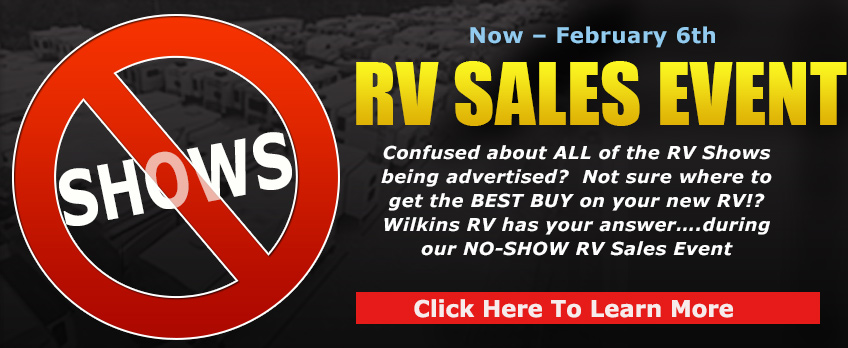 If if you've been looking for an RV, chances are you've been bombarded by RV show commercials and advertisements. There's also a huge chance that all this media coverage has left you feeling confused. Which show is the right one for you? Which show will have what you need? More importantly, which show can you trust? Well, the great news is that you don't need to worry about these questions because the answer is simple. Come to Wilkins RV for all of your RV needs!
Now through February 6, we are hosting our No Shows RV Sales Event. We have a huge selection of new and used RVs for sale all at incredible prices. Why go to a busy, confusing RV show when you can meet with our experienced team and find the best RV for your needs. Walk through units and take the time to get answers to all of your important questions.
Buying at an RV show can actually be much more expensive for several reasons. When you have an RV show you have to pay to rent the facility, which RV dealers then pay to rent their spot. Transporting all of your inventory to the show, plus inevitably incurring damage during transport adds an additional expense. When you tack on the cost of hotel rooms, advertising to promote the event and even grabbing meals during the show, it's easy to see why going the RV show route might not be the best choice.
Get in touch with our team or stop by during our No Shows RV Sales Event. We will help you find the best RV for your needs and answer any questions you have.