We offer outstanding deals every day on new and used RVs, but we're serving up some RV parts and service specials during the month of May! Taking advantage of these savings now mean you can hit the road confidently and with the peace of mind that your RV is in pristine condition. Check out some of our RV parts and service coupons below!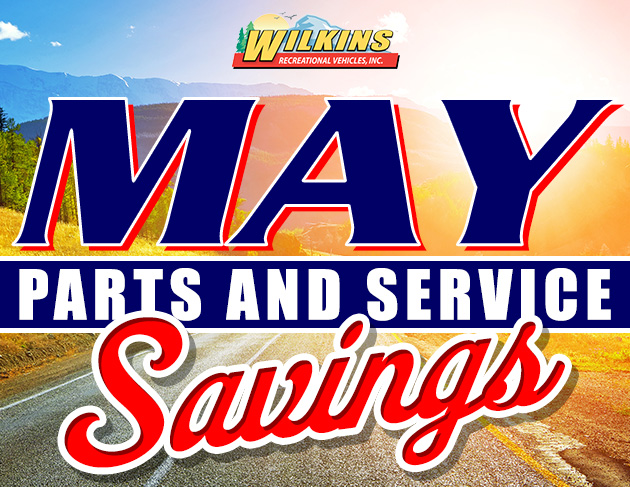 Free NYSI
When you purchase any RV service in our maintenance brochure, we'll throw in a NYSI absolutely free!
RV Pressure Test
Water damage is expensive! Our Sealtech pressure test lets us check for areas of possible water entry, and protect your RV from water damage!
Wheel Bearings as Low as $159.99
We're running service specials on wheel bearings for single, double, or even triple axel units, starting at just $159.99!
Full Appliance Tune Up
Don't hit the road without making sure all of your appliances are in working order. The last thing you want is getting to your campsite and experience an appliance failure! Let us check and tune up all of your appliances! Our full appliance tune up includes the following:
LP Furnace Service
Roof A/C Service
RV Refrigerator Service
RV Water Heater Service
LP Leak Test
Save $208 on Everything
Need "All of the above"? We've got you covered. Our package special on the Seal Tech service, double axel wheel bearings, and full appliance tune up saves you more than $200!
Print all of our RV service coupons here.
RV Parts Coupons
We're also offering savings on certain RV parts! Check out some of the savings and coupons here! We've got deals on roofing supplies, wheel hitches, awning replacement fabric, and more!
Proper RV service and maintenance will always save you money in the long run, because preventing problems is less expensive than fixing them! Invest in the longevity of your RV and save money in the long run by taking advantage of our May RV parts and service specials now. Contact us today!