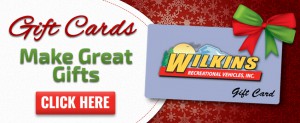 Not or sure what gift to get that special RVer in your life? Here at Wilkins we understand that finding a gift that meets the expectations of your friend or family can put a lot of pressure on your shoulders. That's why we've put together a list of some of our favorite items for RVers. You can also consider purchasing a gift card.
Gift cards are a great choice for many reasons. One of the biggest is convenience. Wrapping them is easy and, if you're a last minute Louie like a lot of people out there, this is the perfect last minute gift.
Gift cards also help eliminate pesky exchanges and returns. Let's just say you buy your uncle an awesome folding chair, but he says he already has one he enjoys. Making that return would be a pain, whereas a gift card would easily solve the problem.
One of the best things about gift cards is they're easy to ship. Pop it in a lovely holiday card and you're set. The same idea can be applied when you're traveling. Packing a gift card is a lot easier than packing a new lantern for dad.
So, what are you waiting for?  Stop by Wilkins for the perfect gift for the RVer in your life or chat with our staff about some of our favorite RV accessories of 2015 or simply purchase a gift card online today.