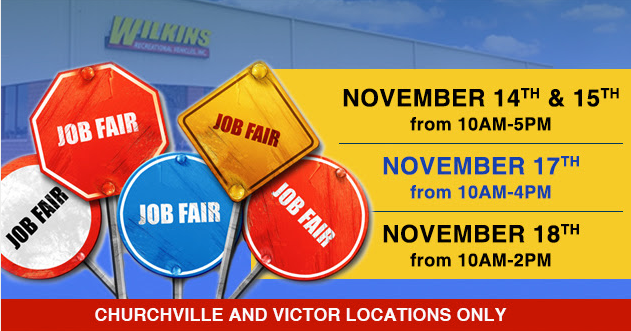 Now is your chance to be a part of a winning team of dedicated employees who love what they do. Helping RV customers reach their RV travel dreams is our goal. If you have what it takes to be employed in the RV industry, join us at our RV Job Fair November 14th-18th!
We are searching for additional employees to make our business even better. From sales to service, our team is expanding and we are looking for enthusiastic individuals with a commitment to succeed.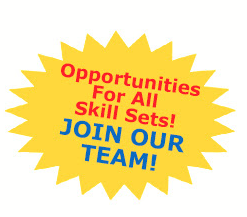 We have a wide variety of positions available to qualified candidates such as:
Service & Parts Administration
Drivers
Service Technicians
Tractor/RV Operators
RV Sales
Finance Managers
Cleaners
We offer a generous pay plan, health, dental, life and disability insurance, 401(k), paid vacation, professional working environment, job specific training and advancement opportunities. EOE.

Wilkins RV is a leader in the RV industry. As a Top 50 Dealer in the United States, we strive to provide the best sales and service experience to our customers. We have maintained an "A" rating with the Better Business Bureau since 2004. This is a good indication of the commitment we put into our company.
We have been in business for 80 years over three generations. Because of our longevity, we are a trusted name that customers rely on to fill their RV needs.

Make sure you bring a current resume and be ready to fill out an application or fill out an online application ahead of time.
Job Fair Days and Times are:
Tuesday and Wednesday – November 14th-15th – 10am-5pm
Friday – November 17th – 10am-4pm
Saturday – November 18th – 10am-2pm
Contact Us if you have any questions about available job openings. We look forward to meeting you!