Owning an RV gives you the freedom to travel and camp in comfort. In addition, traveling in an RV can save you and your family money as you don't have to pay for hotels, meals in a restaurant, or extra pet fees when traveling with your furry friends.
However, as with any vehicle, you'll need to perform regular maintenance and cleaning of your RV, including the roof, to protect it from the elements. No matter what size RV you have, using a professional RV detailer, such as our experts at Wilkins RV, will take the work of cleaning your RV's roof off your shoulders and ensure the job gets done properly.
Why RV Roof Maintenance Is Important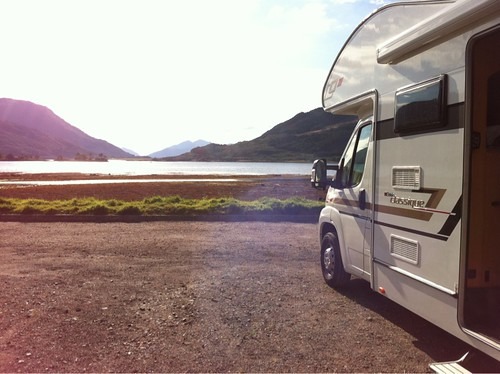 You rarely see the roof of your RV. But, just because it's out of sight, it still needs cleaning as it's subject to a variety of elements. Your RVs' roof is bared to the blazing sun, which can deteriorate the seals, gaskets, and other roof elements. Traveling along the highways and byways of New York exposes your RV to constant wind, which can cause structural damage.
Rain can also cause structural damage that can lead to leaks inside your RV. If left unattended, roof damage can cause mold to grow and deteriorate the caulking around the AC unit and skylights. Keeping the roof clean, inspected, and sealed will help keep your RV road ready so you can go on adventures whenever wanderlust hits.
What Are the Steps for Cleaning an RV Roof
Your RV roof sits high above the ground, and anyone who cleans your roof needs to understand how to access it. They'll also need shoes with a good grip and a way to carry the supplies up to the top. Using cleaners and water will make the roof surface slippery, so the detailer will need to use extra caution when cleaning the roof of your RV. Because there's an element of danger when cleaning your RVs' roof, using a professional RV detailer can save you from getting hurt or injured.
When you bring your RV to our detailer, we'll generally follow these basic steps to help clean and maintain your RVs' roof:
Assemble the necessary supplies: Our RV detailer will collect buckets, brushes, rags, the cleaning solution, sealant, and a caulking gun.
Prepare the cleaning solution: After determining what type of material your RV roof is made of, our detailer will prepare the cleaning solution per the instructions.
Access the roof: We'll bring the supplies to the roof via the RVs' access, along with a hose with a shut-off nozzle to rinse off the solution.
Sweep the roof and gutters: Using a broom, our detailer will sweep all dirt, dust, and plant material off the roof and out of the gutters.
Scrub with the cleaning solution: We'll carefully spread the cleaning solution on the roof and scrub with a soft bristle brush.
Rinse with water: Our RV detailer will rinse the solution with clean water from the hose or with buckets of water.
Inspect the roof for damage: Once the water has dried, our detailer will inspect the roof for cracks, dents, holes, or damaged sealant.
Make minor repairs: If the damage is minor, such as a crack in the sealant, our detailer can make minor repairs.
Apply sealant: Adding fresh sealant can help protect your RVs' roof between cleanings.
Schedule an appointment for your next RV roof cleaning: We'll help you schedule you're next RV roof cleaning so you don't have to worry about remembering this important task.
Once you've had your RV detailed, either head out on your next adventure or put the RV under covered storage. If you leave your RV outside, be sure to keep it covered with a high-quality RV cover that'll help prevent damage from the elements.
How Often Should I Have My RV Roof Cleaned?
Depending on how often you take your RV out of storage or remove the cover and the type of roof material, our experts recommend having your RV roof professionally cleaned every three to six months. If you encounter bad weather during your travels, have your roof cleaned and inspected to prevent further damage.
Why Use a Professional RV Cleaning Company
Cleaning your RVs roof is a huge endeavor. In addition, you'll need specialized equipment based on the roof material. A professional RV detailing company knows the correct cleaning products to use, the tools necessary to get the job done right, and the training to inspect the roof of your RV for leaks or damage. They have the necessary equipment to clean a variety of roof types, including fiberglass, vinyl, aluminum, and rubber.
After a season of adventures and exploration in your RV, the roof often collects plant matter from trees dropping leaves, may have scratches or dents from falling objects, and can accumulate dirt, grime, or sand from backroad travels. A professional RV detailer will be able to clean hard-to-reach places for a thorough and deep cleaning.
Get Your RV's Roof Cleaned Today
Extend the life of your RV and have it look its best when you have it professionally cleaned. Our team at Wilkins RV will clean your RVs roof and inspect it for any damage that may need repairing. We also offer various RV services ranging from annual maintenance to camper restorations. Contact us today to have your RV inspected by the experts.