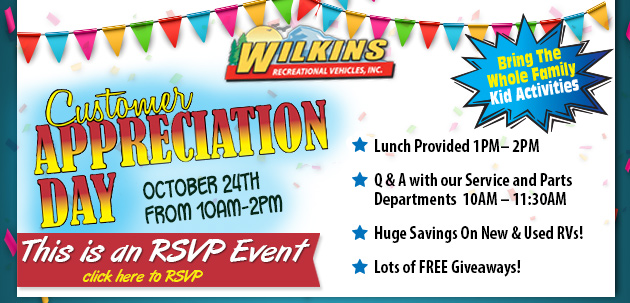 Looking for something to do on October 24 that doesn't require you to hang outside in the cooler weather? Join us from 10am to 2pm for an event you can bring your entire family to. We appreciate every single customer of our, that's why we're putting on this event. It's to celebrate you. Click the banner above to reserve your spot or click here.
Save the date and join us at either our Bath, New York, or Rochester, New York locations.
We'll have a wide range of activities for the kids to enjoy. Mom and dad will be able to meet with our service and parts departments from 10am to 11:30am and get answers to any questions they might have on RV care and maintenance.
From 1pm-2pm we'll provide a free lunch for you to enjoy with the family. This is also a great opportunity to meet other RVers in the area who are just as passionate about camping, the great outdoors and nature as you are.
In addition to great deals on new and used fifth wheels, travel trailers, motorhomes and toy haulers, we will also be giving away tons of freebies.
So, what are you waiting for? Click the banner above to reserve your spot or click here. Remember, this is an RSVP event. We need to know who is coming so we can provide you with the best experience possible.