Ready to pocket huge savings on a new or used RV, RV parts & accessories, or even score the best RV financing offers of the year? We'll treat you right at Wilkins RV! Mark your calendar and come visit us during our Customer Appreciation Sales Event! You won't want to miss what we have in store!

Don't Miss Out!
Our Customer Appreciation Sales Event runs only one day  – so make sure to join us!
Saturday, October 23rd
10 AM – 3 PM
What's In It For You?
Our customers keep us running, and we appreciate you! We want to use this time to pass along fantastic perks to you and your friends and family! Check out the following:
Free Lunch
Who doesn't love free food? Join us at our Victor location for free lunch from 12 – 1 PM on Saturday, October 23rd. Just click here to RSVP!
Gift Card Giveaway
Bring friends and family members with you! If you both end up purchasing during the event, we'll hand you both a $300 gift card to use in our RV parts and accessories store. It's a huge way to save on the RV accessories you're eyeing as you shop for a new or used RV.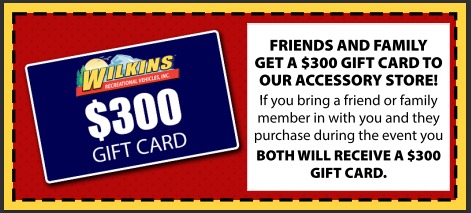 Spin to Win
Another great way to walk away with some sweet RV swag and camping gear is our Spin to Win Wheel from 10 AM – 2 PM.   
Free Vacation Giveaway
Pockets bulging with savings and free gear? How about if we stuff a free vacation in there before you leave?! We're giving away a free 7 day camping trip to Gettysburg Battlefield! Just enter to win!

Extra Savings on Parts & Service
Our Customer Appreciation Sales Event is the perfect time to save on RV parts and service! Print these coupons for 10% off RV service and 10% off RV parts. These coupons expire soon, so don't wait to cash in on them!
Finance Specials
No one should pass on RVing because they think it's too expensive. We help make the RVing lifestyle affordable for families every day! We offer competitive RV financing year round, and our Customer Appreciation Sales Event is no exception. We're offering a free year of Coach-Net and 10% off a Vehicle Service Contract.
We can't wait to see you during our Customer Appreciation Sales Event and help you score the best bargains, savings, and giveaways! Contact us today to RSVP or to ask any questions!