This is one of my family's favorite spring camping recipes. It assembles quickly and easily, and clean up is a breeze. Plus, the leftovers (IF you have any!) make a delicious breakfast the next morning.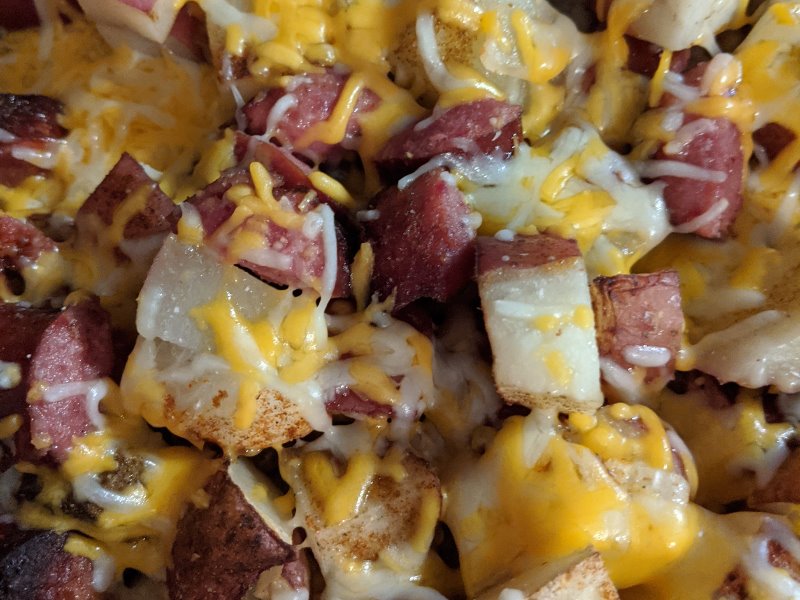 Roasted Sausage & Potatoes
Ingredients:
One pound fully cooked beef sausage, cut into bite-size pieces
3 pounds red potatoes, cut in bite-size cubes
1 onion, diced (your choice! I prefer using Vidalia, but white or red onions also work well)
2 cups shredded cheddar cheese
2-4 Tbs Cooking oil
Paprika and ground thyme to taste
Salt and pepper to taste
You'll also need:
Cutting board
Knife
Large mixing bowl
Dutch oven or cookie sheet
Aluminum foil (optional)
Directions:
You can make this a few ways: over the campfire or in the oven! You'll either need a roaring campfire or your oven preheated to 450.
Dice sausage, potatoes, and onion and place in bowl.
Drizzle the mixture lightly with cooking oil.
Season to taste with paprika, thyme, salt, and pepper.
If you're using the campfire method, place the whole mixture in a Dutch oven and hang over the campfire.
If you're using the oven method, line a cookie sheet with foil and spread the mixture on top.
Next, bake or roast the whole mixture until the potatoes are tender – about 25 minutes. Make sure to stir occasionally redistribute and prevent sticking.
Once the potatoes are tender, add the cheese. Cover the mixture generously with the cheese and remove from heat. Let the cheese melt into it before serving. Bon appetit!
This is a sensationally hearty dinner that your family will enjoy on cool spring evenings around the campfire, and since it's so simple to make, it will probably find its way into your recipe rotation year-round.
Planning your camping recipes can feel complicated, especially if you aren't sure how to make the most of what your new or used RV has to offer. We can help you pick the perfect unit that ticks all the boxes for your family's needs, or helps you maximize its amenities, so stop in or contact us today!