Shop for a new or used RV during our Virtual RV Show, going on right now! You can enjoy all the benefits of the customer service we've proudly offered our customers for years while shopping from the safety of your own home. Here's how you can save thousands and shop for a new or used RV online during our Virtual RV Show.
Virtual RV Showroom
Our Virtual RV Showroom is open 24/7. Click on the blue "Get Personal Virtual Tour" button on our online listings of new and used RVs for sale.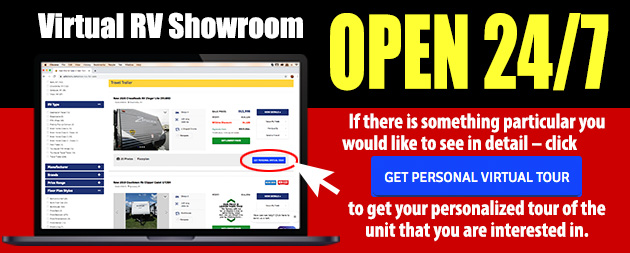 We're working hard to provide you with plenty of photos and streamable videos to give you a detailed shopping experience. Have questions or need more photos? Just let us know!
Weekly Facebook Live Videos
Each week on our Facebook page, we're doing Facebook live videos. This is a great way to see the inside of specific units. Is there a particular RV you'd like to see featured during our live videos? Let us know, and we'll include it in the line up.

We're also using our Facebook live videos to feature RV parts and accessories and RV service specials. We're even doing giveaways, just like at an in-person RV show! Don't miss out! Tune in weekly and join Wilkins RV on Facebook!
Helping You Find a New "Normal"
As much as everyone wishes things could just go back to normal, we understand that this may not be realistic at this time. So, we want to adapt in a way that allows you to continue to plan and take the vacations you want, and this means helping you shop for a new or used RV in a way that's safe and healthy. That's why we're hosting our ongoing Virtual RV Show. It's a great way to shop online for a new or used RV while finding a sense of what a "new normal" is during this time. Contact us today!