Once you hit the road in your new RV, there's no telling where you'll go. Hopefully, along your route, you'll stop at some delicious restaurants that serve your favorite cuisine. If you happen to be planning your road trip around the best barbecue along the way, we have some must-try barbecue restaurants you can't miss when you're passing through Clay, New York. These smokehouses will have you planning your next adventure around their menus to create new memories you'll never forget.
Bull & Bear Roadhouse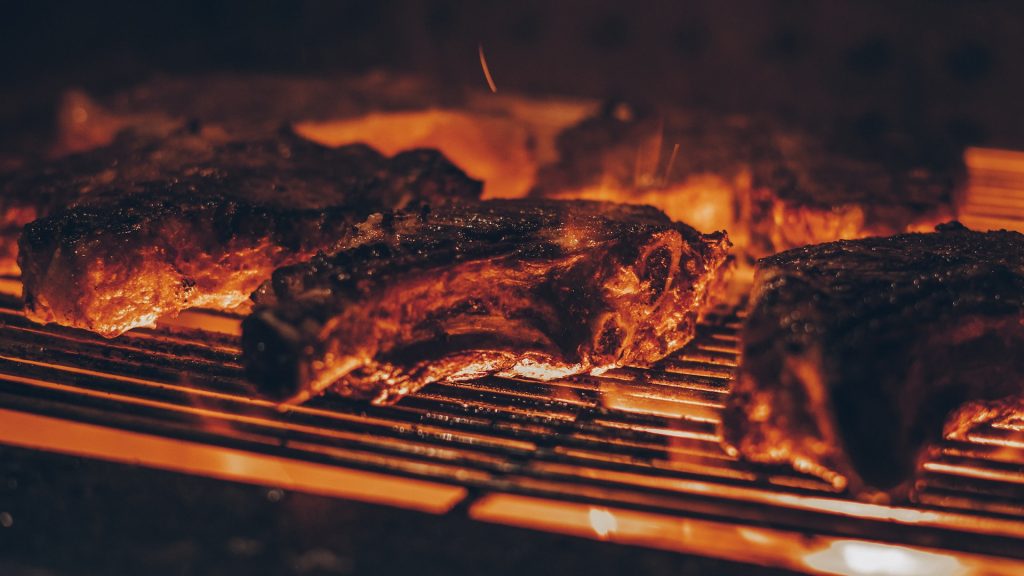 If you love barbecue, Bull & Bear Roadhouse will scratch that itch. You can easily reach one of their three locations in Collamer, Liverpool, and Fayetteville, conveniently located off I-81 and I-481. Owner Mark Bullis started his first restaurant, Bull & Bear Pub, in Hanover Square, Syracuse, serving elevated pub fare and hosting a steady stream of live local performers. However, his roadhouse concept didn't come to fruition until 10 years later when he opened Bull & Bear Roadhouse on Collamer Road.
Bullis' menu features barbecue staples such as slow-roasted St. Louis ribs, pulled pork, brisket, smoked sausage, and herb-marinated chicken. You can order a platter with your choice of three meats and two of his house-made sides — but only two might not suffice. Of course, his house-made cornbread and Baja slaw are must-try items. But so are the mac salad and baked beans.
There are the premium sides like loaded salt potatoes, which are roasted potatoes smothered in brisket and cheese, then drizzled with sour cream, and topped with scallions. Finally, Mac and cheese lovers can't decide between his original cavatappi pasta drowning in house-made cheese sauce or one of his specialty macs.
The Bonfire Mac comes loaded with brisket and frizzled onions and is finished with buttermilk ranch and barbecue sauce. A regional favorite, Buffalo Mac, comes topped with fried chicken, blue cheese crumbles, and a drizzle of buffalo sauce. And for a taste of Cajun flavor, you have the Jambalaya Mac with chicken, shrimp, and sausage drenched in a spicy cheese sauce.
Bull & Bear Roadhouse has so much more than barbecue, though Bullis' barbecue proteins often appear throughout the menu. Brisket nachos, barbecue poutine, pulled pork sandwiches, tacos, and more offer mouthwatering ways to enjoy the best barbecue around.
Limp Lizard
You have three locations near Clay to enjoy some great barbecue. Limp Lizard Bar and Grill on Onondaga Boulevard in Syracuse, Limp Lizard Liverpool in Liverpool, and Limp Lizard Roadside Cantina in North Syracuse provide convenient access from Clay.
The menu consists of classic barbecue favorites such as smoked ribs, half-chicken, pulled pork, beef brisket, wings, and smoked turkey. Limp Lizard sells platters of one, two, or three meats with cornbread and two sides. Cold sides include cottage cheese, pasta salad, slaw, black bean salad, and red-skinned potato salad. If you like your sides hot, check out the Hellfire Chili, sauteed collard greens, roasted corn, Spanish rice, black beans and rice, sweet potato fries, and spicy jalapeno cornbread.
Limp Lizard makes eight signature sandwiches from its smoked barbecue to please any palate. Classics such as Robin's Burnt End use burnt brisket ends, smothering them in barbecue sauce, sauteed onions, and melted cheddar cheese. Another favorite, the Big Nasty, piles brisket on a hoagie roll with smoked hot links, peppers, onions, cheddar cheese, and barbecue sauce. And there's always the Big Tom, a sandwich of smoked turkey piled high and topped with cranberry, lettuce, tomato, onion, and mayo.
At Limp Lizard, you aren't restricted to only barbecue. You can try something from their Tex-Mex menu, like tacos, burritos, quesadillas, and jambalaya. Or you can order lighter fare from the Lizard Greens salads. The Hail Caesar and Limp Lizard salads are classic representations, with Romaine lettuce or field greens. Or you can choose the Southwestern salad, where you can opt for ground beef, pork, or beef barbacoa served in a tortilla bowl and topped with shredded cheddar, lettuce, tomato, onion, black olives, and Southwest ranch dressing.
Dinosaur Bar-B-Que
Located on West Willow Street in Syracuse, Dinosaur Bar-B-Que has been serving up finger-licking good barbecue since 1988. However, you can visit one of their five other locations in Buffalo, Brooklyn, Harlem, Rochester, or Troy if your road trip ventures away from Clay.
Their menu offers quality over quantity but still plenty of variety. Unique appetizers like Drunken Spicy Shrimp Boil, Fried Green Tomatoes, Dino Sliders, Jumbo BBQ Chicken Wings, Creole Deviled Eggs, Chili Nachos, and Dino Poutine blend comfort food and barbecue flavor to perfection.
Of course, you have barbecue staples such as St. Louis ribs, pulled pork, chicken, jalapeno cheddar sausage, and even Prime-grade beef brisket on the menu. You can create your combo plate, order a family meal that serves two or three people, or pick up a small brisket, ribs, and pork samplers. All plates come with house-made cornbread and two sides.
They have over 10 sandwich/burger options, from the Pitmaster burger topped with burnt ends to three brisket specialties like the BBS, Prime Brisket, and Power Couple sliders. Chicken sandwiches include grilled, crispy, and Buffalo style. However, suppose you're looking for a different kind of sandwich. In that case, you'll love the catfish po' boy, barbecue mushroom Reuben, and the Impossible Burger topped with caramelized barbecue onions, melted cheddar, smoked plum tomato, house-cured pickles, and their signature Zip Sauce.
Dinosaur Bar-B-Que offers two entree bowls. The Bar-B-Que Bowl includes your choice of meat over mixed greens and topped with black beans and rice, grilled cornbread, deviled egg, toasted pumpkin seed, and a red wine vinaigrette. Or you can opt for the Dirty South Bowl with Southern-fried chicken, mac and cheese, chili, simmered greens, and cornbread.
Their delectable side dishes have all your favorites, such as barbecue beans, coleslaw, apple sauce, and mac and cheese. And everyone loves their hand-cut fries, simmered greens with smoked turkey, and signature chili.
We hope you take the time to visit one of these great barbecue restaurants on your next RV adventure. Of course, if we missed one of your favorites, please contact us. We'll do our best to update our list so everyone can make new memories over a delicious barbecue meal.