One of my family's favorite holiday treats is sausage balls! They're so easy to make and keep well in an airtight food storage container. Here's an easy recipe for sausage balls we like to use – your family is sure to love it, whether you're staying at home for the holidays or traveling in your new or used RV from Wilkins RV!
Easy Sausage Balls
Ingredients:
1 lb spicy ground sausage
1 box Red Lobster cheddar biscuit mix
1 egg
1 cup shredded cheese of your choice (pepper jack, Monterey jack, or cheddar are all great choices!)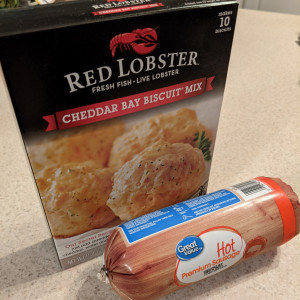 You'll also need:
Mixing bowl and spoon
Cookie sheet
Parchment paper
Meat thermometer
Directions:
Preheat oven to 350 and line cookie sheet with parchment paper.
Mix all ingredients together (including the seasoning packet that comes in the biscuit mix) thoroughly in a mixing bowl. This is easily mixed by hand, but if you prefer using a stand mixer, you can do that too.
Drop by heaping tablespoons onto the cookie sheet and form into balls. Bake at 350 until meat thermometer inserted reads 160 degrees.
When cooking raw meat, I like to emphasize using a meat thermometer to get to your desired doneness. Erring on the side of undercooked runs the risk of food poisoning or salmonella, and erring on the side of caution means you might end up with something that's too dry and doesn't taste good. When you cook to temperature instead of time, you'll end up with something that's perfectly done without being dry!
Another feature that helps prevent these easy sausage balls from drying out is that you use raw sausage. Many sausage ball recipes call for the sausage to be cooked beforehand, but beginning with raw sausage helps keep these moist as they bake.
Whether you're traveling during the winter in your new or used RV or staying home for the holidays, we know you'll love these easy sausage balls as much as we do! Contact us if you need RV service before hitting the road, or want to surprise your family with a new RV for Christmas!