Venture RV is a brand known for crafting high-quality travel trailers that combine durability with luxury. They offer a range of travel trailers designed to deliver comfort, convenience, and versatility. The SportTrek line, in particular, caters to those who love the great outdoors but also desire a comfortable and convenient living space. Two popular models in this lineup are the Venture RV ST332VBH and ST333VIK.
To select the best SportTrek floor plan for your needs, it helps to consider the similarities and differences between the models. The SportTrek ST333VIK and SportTrek ST332VBH both offer exceptional features, but your choice depends on your specific requirements. Regardless of the floor plan you opt for, you can be confident that you're getting a high-quality, luxurious travel trailer perfect for you and your family. Here at Wilkins RV, we've put together this SportTrek floor plan comparison guide to help you decide. Now, let's delve into the specifics of each model to help you determine which trailer suits you best.
SportTrek ST332VBH: An Overview
The ST332VBH stands out when it comes to trailers that provide both comfort and functionality. This model, which is designed for families, offers ample space and plenty of amenities to accommodate everyone. Its thoughtful design, generous storage, functional kitchen, and comfortable living area make it a top pick for family adventures. This model boasts an impressive floor plan that maximizes space, ensuring comfort for the whole family. The rear bunkhouse offers sufficient room for kids or guests, featuring three bunks and a separate entertainment area. The master bedroom at the front of the trailer ensures privacy and tranquility. 
The fully equipped and functional kitchen includes a large refrigerator, a three-burner stove, an oven, and a microwave. The spacious countertop and generous storage make preparing meals for your family during your adventures a breeze. A comfortable sofa and separate dinette provide abundant seating for everyone, serving as the perfect space to unwind after a day of outdoor activities with your family. The strategically placed entertainment center ensures great viewing from various seating areas, allowing everyone to enjoy their favorite shows or movies. This model is 37 feet, 8 inches long, 8 feet wide, and 11.5 feet high. These dimensions offer ample space inside for families or groups of travelers. The larger size allows for enhanced interior and exterior storage capacity and flexibility.
SportTrek ST333VIK: An Overview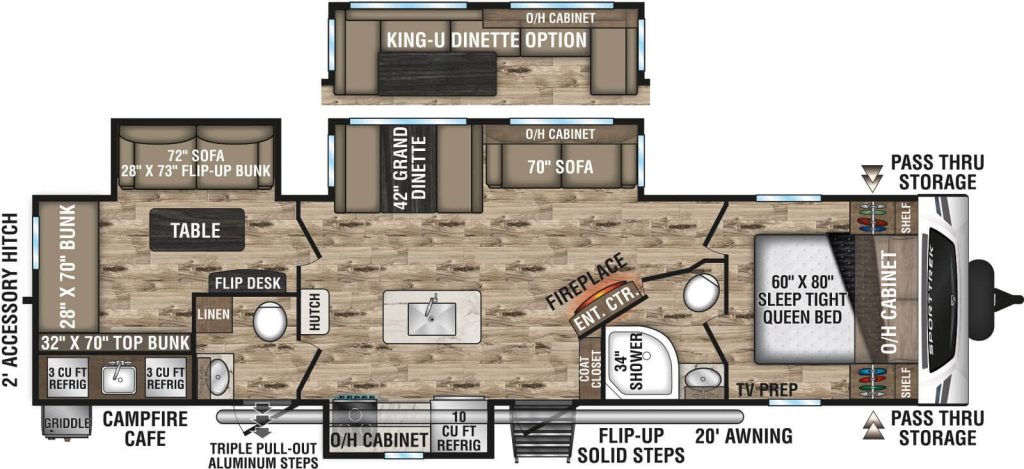 The ST333VIK RV offers numerous conveniences to make your next adventure a comfortable one. Prioritizing quality, innovative features, and spacious interiors, this RV is a top choice for travelers seeking a home on wheels; this floor plan offers plenty of room for a small family or group of friends. It features three slide-outs, providing additional living space in the master bedroom, kitchen, and living area. The master bedroom includes a queen-size bed and a roomy wardrobe for storage. Thanks to the ingenious floor plan and space-creating slide-outs, the trailer provides room for up to six people without feeling cramped.
The kitchen is both beautiful and functional, offering plenty of counter space and high-quality materials. It features a three-burner cooktop with a glass cover, a stainless steel full-size refrigerator/freezer, and solid surface countertops. The convenient overhead cabinets in the kitchen provide generous storage for all your utensils and cookware. The living area features two comfortable sofas and two cloth reclining chairs. This area also includes an entertainment center with a TV, allowing you to enjoy family time while you relax on the cozy furniture. The large windows in the living area allow natural light to illuminate the space, contributing to a cheery ambiance.
Differences Between the ST332VBH and the ST333VIK
Both the Venture RV ST332VBH and ST333VIK are excellent options for those seeking comfort and outdoor versatility. As we mentioned, the ST332VBH provides a rear bunkhouse and a slightly narrower width, while the ST333VIK offers a rear living area and a wider layout. By considering factors like the price, layout, and weight of these models, you can make an informed decision about the ideal travel trailer for your needs. Let's take a closer look at a few of these specs and their similarities and differences:
Weight and Carrying Capacity
Considering weight is vital when choosing a travel trailer to ensure that it doesn't exceed your towing vehicle's capacity. Both RVs fall within a similar weight range. The ST332VBH weighs 8,140 pounds, while the ST333VIK weighs 8,870 pounds. Their cargo carrying capacities (CCCs), however, remain distinct from each other. The 333VIK is capable of carrying up to 1,870 pounds, while the 332VBH is capable of carrying up to 2,505 pounds, nearly twice as much.
Layout and Amenities
The living spaces of both vehicles are designed for comfort. For instance, the ST332VBH features a rear bunkhouse with three bunks as well as washer/dryer hook-ups, making it suitable for families or groups. On the other hand, the ST333VIK offers a different layout with a rear living area featuring your choice of theater seating or a sofa, creating a cozy space to relax. It also includes a kitchen island and a flip desk, making the living area of the ST333VIK more spacious overall.
Shop the 2024 Venture RV SportTrek at Wilkins RV
If you're interested in hitting the road in either of the SportTrek models we've discussed or you wish to browse our inventory further, we'd love to meet you here at our dealership in Bath, New York. With an expansive range of new and high-quality used recreational vehicles to choose from, your dream RV is at your fingertips. For more information, don't hesitate to contact us today via our website, and one of our friendly team members will be happy to point you in the right direction.