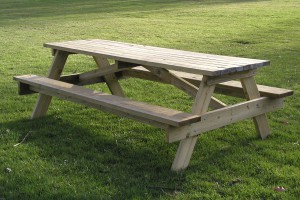 If you're wracking your brain trying to figure out what to serve your guests at your upcoming Memorial Day BBQ stop worrying! We've got your back. We put together this list of amazing recipes that all fit the following factors: they can be made ahead of time, they're easy to make and, obviously, they're delicious. So, before you gather with your friends and family to remember those who have paid the ultimate price for our freedom, be sure to read over these recipes.
Baked Beans
Nothing quite says summer BBQ like baked beans. This best baked beans recipe brings together sweet brown sugar, tangy mustard and thick sliced smoky bacon to create a dish that will taste like a veritable party in your mouth. As if bacon wasn't enough it also calls for a pound and a half of ground beef. It could pretty much be a main course. Use it as a side dish or to top your hot dogs!
Cole Slaw
This Mexican cole slaw recipe is sweet and spicy, which puts a unique twist on the plain, boring mayo based cole slaw of our past. Crisp cilantro and nutty lime juice are some of the bold flavors you'll love in this dish. This makes a wonderful topper for burgers.
Stuffed Burgers
Memorial Day get togethers always call for burgers, but why go for routine? Ditch your onion soup burger mix and delve into something a little outside of the box. Stuffed burgers are a surefire way to impress your friends and your taste buds. Check out this list of burgers stuffed with everything from blue cheese to spinach and feta. Prep your burgers the day before your BBQ so you can pop them on the grill.
Strawberries are on sale, which means now is the perfect time to make this homemade strawberry ice cream. Unlike other homemade ice cream recipes this recipe doesn't call for rock salt or an ice cream maker. It's incredibly simple, flavorful and made with REAL strawberries. It doesn't get any better than that. Serve on top of a slice of your favorite cake or with whipped cream.
While many salads get soggy if made ahead of time, this gorgeous layered salad can be made a day ahead of time. It's full of protein from fresh spinach, bacon, peas, cheese and hard boiled eggs. This can be served as a starter or as an entree if topped with chicken.
Photo Credit: "Picnic table" by Benjamin D. Esham / Wikimedia Commons. Licensed under CC BY-SA 3.0 us via Wikimedia Commons – http://commons.wikimedia.org/wiki/File:Picnic_table.jpg#/media/File:Picnic_table.jpg