For those seeking the ultimate outdoor adventure, a road trip or camping excursion is incomparable. With no fixed destination in sight, there are unlimited possibilities for unique experiences. However, the downside to these journeys of discovery is a lack of comfort — until now. With a towable RV, you can travel to any destination and enjoy all the luxuries of home in one convenient package.
But which towable camper is right for you? From simple pop-up trailers to huge luxury trailers, the options can be overwhelming. If you're looking for the ultimate RV experience, a travel trailer or fifth wheel may be your best bet. Boasting a home-like feel, these campers feature built-in showers and rooms, making them ideal for the discerning adventurer. By now, you're probably wondering what sets them apart and which would be the best choice for you. Read on to find out.
What Is a Fifth Wheel?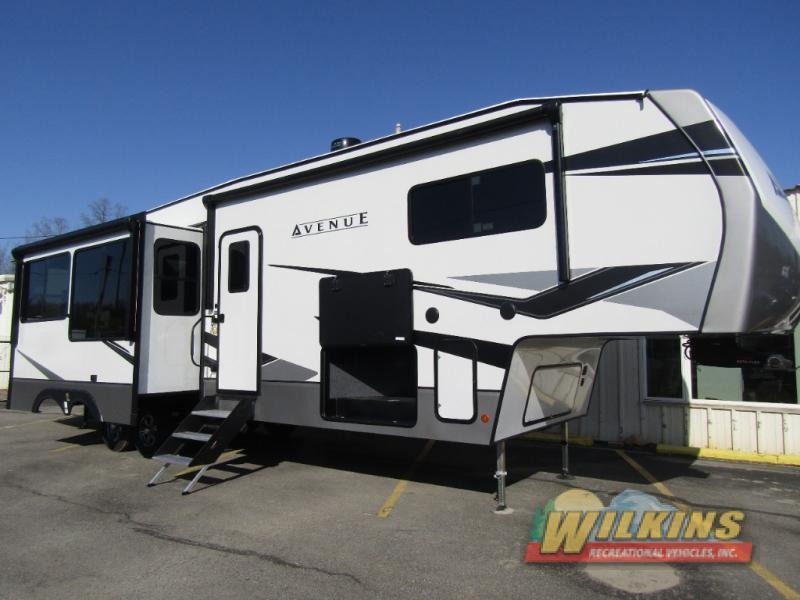 A fifth wheel is essentially a large box-shaped trailer designed to be towed by a pickup truck. It features a signature hitch system in a truck bed that connects to the trailer's frame. Most of these recreational vehicles range from 30 to 40 feet in length. Fifth wheels generally feature higher ceilings and offer more interior space than other RVs, making them a great choice for those needing additional room.
Fifth wheels are packed with an abundance of features, some of the most popular including the following:
Multiple slide-outs that can extend the living space.
Loft space with staircase access above the coupling mechanism.
Rear living area for extra bedroom and entertainment space.
Additional storage spaces.
Large windows and skylights.
What Is a Travel Trailer?
Travel trailers are the most common type of RV. They're towed behind a car, truck, or SUV and are typically between 21 and 40 feet long. Some models can even be longer than 40 feet. The hitch is mounted on the back of the vehicle and connected to a factory-installed receiver. This is why travel trailers are sometimes referred to as "bumper pulls."
Travel trailers come with an array of impressive features, including the following:
High ceilings.
Spacious living rooms.
Multiple entry and exit points.
Walkable roofs.
How Do I Choose Between a Fifth Wheel and Travel Trailer?
If you've decided to invest in a towable, the next step is deciding whether to get a travel trailer or a fifth wheel. Before making your choice, evaluate your vehicle's towing capabilities. If your vehicle has the power to tow both a fifth wheel and travel trailer, then you can proceed to compare the two options.
Furthermore, consider your lifestyle and preferences. Do you need more living and storage space? Are you looking for something that features a rear living area? Is a walkable roof important? How much is your budget? These are just some of the questions you should consider before deciding.
Key Differences Between Fifth Wheel RVs and Travel Trailers
Of course, knowing how to distinguish between a fifth wheel and travel trailer RV isn't much help when it comes to actually choosing the right one for your lifestyle. So, let's take a look at some of the key differences between the two:
Price
Travel trailers have a significant advantage over fifth-wheel RVs when it comes to price. Their smaller size and design make travel trailers almost always cheaper than a fifth wheel. Naturally, you can upgrade either model with luxurious amenities, but for the most part, travel trailers cost less.
Ease of Towing
For those who have towed both a travel trailer and a fifth wheel, the consensus is that it's much simpler to haul a fifth wheel. This can be attributed to the design of the fifth wheel and its kingpin hitch, which moves the load forward into the truck's bed as opposed to a traditional hitch behind the rear bumper. As such, the fifth wheel's turn radius is much better than a travel trailer, providing more stability, even in windy conditions.
A travel trailer's aerodynamic frame and connection point make it more prone to swaying and difficult to control. You can add aftermarket sway bars to your tow vehicle to improve stability, but this won't provide the same sturdiness as a fifth wheel.
Towing Needs
Fifth wheels can only be towed via a unique coupling mechanism that requires a pickup truck, whereas travel trailers can be towed with a variety of vehicles, including trucks and SUVs. This means that if you choose to tow a travel trailer, you'll have more towing considerations when hitching it up. However, fifth-wheel coupling systems usually follow a standard configuration that ensures smooth towing.
Aesthetics
Fifth wheels are easily identifiable because of the large "tongue" over the truck's bed, while travel trailers are more rectangular. Some people prefer the look of a fifth wheel, while others prefer the aesthetics of a travel trailer. Ultimately, this boils down to personal preference.
Weight
Travel trailers are much lighter than fifth wheels, making them easier to tow. However, this lightweight body can also sacrifice some structural integrity compared to the more durable fifth wheels. Additionally, with its lighter weight, a travel trailer may not be as well equipped to handle rough terrain or steep grades.
States That Permit Passengers to Ride in Campers
If you're planning to take your towable on a local or long-distance journey, you should be aware that laws regarding passengers riding in campers vary by state. Here's a list of states that permit passengers to take part in this exciting pastime:
Arizona.
Mississippi.
Missouri.
Indiana.
Iowa.
California (fifth wheels only).
Idaho.
New York (fifth wheels only).
North Carolina.
Tennessee.
Minnesota.
Maryland.
Michigan.
Montana (fifth wheels only).
Nebraska.
Pennsylvania (fifth wheels only).
Washington, D.C.
West Virginia.
New Jersey.
North Dakota (fifth wheels only).
Oklahoma.
Oregon (fifth wheels only).
Wisconsin (fifth wheels only).
South Dakota (fifth wheels only).
Which Is the Better Choice?
Ultimately, both offer incredible features, designs, and value, so you can't go wrong with either. The best choice comes down to the type of towable that fits your travel needs and lifestyle. At Wilkins RV, we offer an extensive inventory of new and used RVs for your convenience. Whether you're looking for a fifth wheel or travel trailer, we have the perfect RV for your next adventure. Contact us to learn more and schedule a test drive.