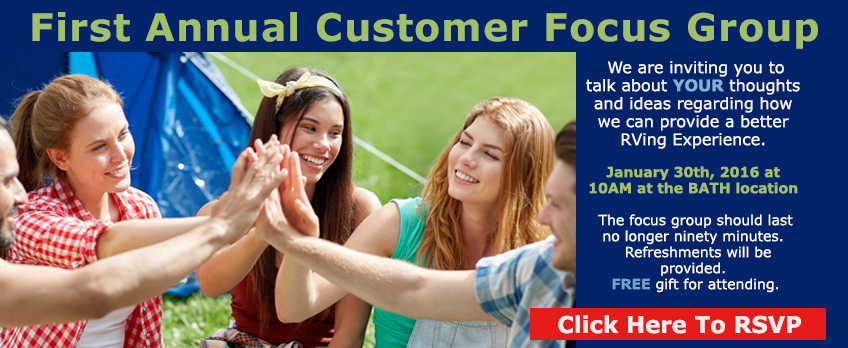 At Wilkins RV our number one priority is serving you! We want to have a solid understanding of your needs as a customer and RVer, because without that we can't serve you to the best of our abilities. We would love for you to join us on January 30, at our Bath location for a quick 90-minute focus group at 10am.
Refreshments will be provided and we'll give you a free gift just for giving us your opinion. We want to hear about your overall experience with Wilkins, your perception of us as a company and how we can improve. Yeah, that's right. You can tell us what we are doing right and what we are doing wrong and we will appreciate it!
Whether you recently purchased an RV from us, bought one several years ago or are planning to purchase one in the future, we want your opinion on how we can provide a better RVing experience.
You'll also have a chance to chat with other RV enthusiasts. RSVP today!
Sign up for one of our many complimentary RV seminars or stop by to speak with our friendly team. We are excited to serve you and make sure you have the information needed to make RVing your hobby of choice.