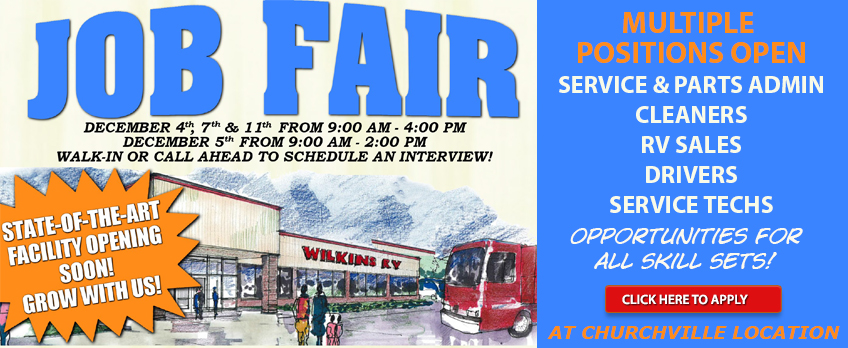 Are you looking to advance your career? Maybe you're looking for a job in a growing industry that actually makes people happy. The RV industry is a fabulous industry that is based firmly in the idea of bringing families closer through fun and adventure. RVs are not just conduits to family fun, they're a part of an industry that keeps jobs in America and pumps money into our country's tourism industry.
Our state-of-the-art facility is opening soon and we need great employees. So, what are you waiting for? If you've got a great personality, are friendly and hardworking, we want you to come to our job fair at our Churchville location. We've got a variety of positions that fit all skill sets are open.
December 4, 7 and 11 from 9am – 4pm and December 5 from 9am – 2pm, we'll be hosting on-site interviews at our Churchville location so we can find team members.
Give us a call at (855) 713-3396 or fill out our online application!
Multiple positions are available:
Service and Parts Admin
Cleaners
RV Sales
Drivers
Service Techs
Working at Wilkins RV is like joining a big, happy family. Our team members are fun and talented and we pride ourselves on creating a welcoming and inclusive work environment. Come work at a place where your work will be appreciate and you can look forward to coming to work each morning.