Let's face it. DIY RV maintenance isn't exactly fun for anyone, and remembering to make sure your RV is properly serviced can be a hassle. But you don't want to put it off, because then you could easily find yourself stranded on the side of the road facing a repair that could have been avoided, or a lot less expensive. Check out our current RV service deals below. We know they'll make your life easier – and your RVing adventures more affordable!
Finally, click here to view the coupons in printable form. Print the ones you need and give us a call. We'd love to help get your RV road-ready! Leave it in our hands while you use yours to pack your bags!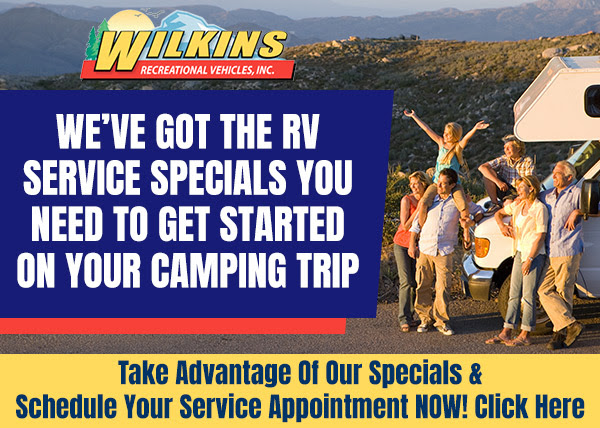 Here are just some of the coupons you can take advantage of!
BASIC GENERATOR SERVICE – $79.99
Drain old oil
Refill with new oil
Install new oil filter if applicable
FULL APPLIANCE TUNE-UP – $329.99
LP furnace service
Roof A/C service
RV refrigerator service
RV water heater service
LP leak test
ROOF AIR CONDITIONER SERVICE – $89.99
Perform amperage test
Check & replace filter if necessary
Clean coils
Clean evaporator
GAS LUBE OIL & FILTER – $129.99
(includes filter & 8 quarts of oil)
Change engine oil and oil filter
Check air filter
Lube chassis
ROOF CARE CLEAN & TREAT – $123.99
Entire RV roof surface is cleaned with a special detergent plus the installation of a special RV rubber roof treatment
Improves the appearance of your RV by reducing "black streaks"
DELUXE DE-WINTERIZATION – $125.99
Drain/flush all antifreeze
Connect all valves for water flow
Inspect RV for water leaks
Sanitize system
Add chemical and provide pack of RV-safe toilet paper
Other Fantastic RV Service Specials
Sign up for our email list. It's a great way to get exclusive or early access to our coupons and RV service specials! Service on any vehicle or RV needs to happen for one of three reasons: known problems, suspected problems, or routine maintenance. Whatever category your RV falls into, we can help you get back on the road, or stay on the road safely. Print off these coupons for our RV service specials, sign up for our email list, and contact us today!