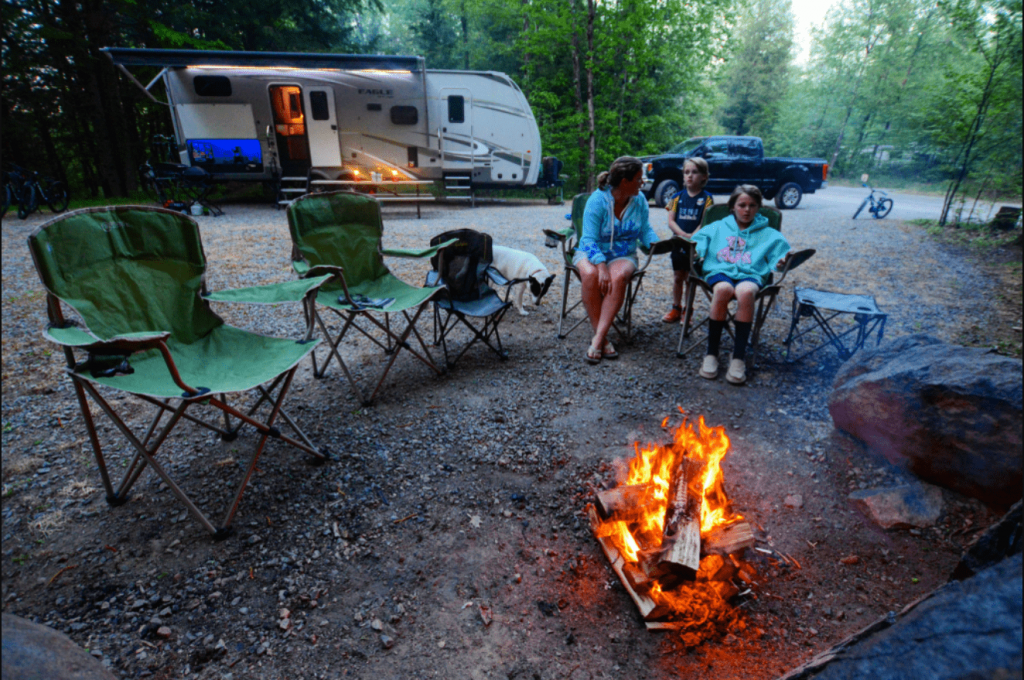 Are you new to the world of RV camping? You're about to find that camping in an RV can be a wonderful, relaxing experience. But like anything, you need time to learn the ropes and prepare for unexpected situations. Discover four tips and tricks to use as you plan your first trip out.
1. Find the Right RV for You
RVs are available in many different sizes and floor plans, and some RVs are customizable. The Wilkins RV website has an advanced filter tool to help you find your RV quickly by type, features, monthly payment, or more. If you want a personalized shopping experience, you can fill out this short form and we will help you find your perfect RV.
A good rule of thumb is to start with a big enough RV to fit your family and all the camping supplies you need comfortably. You will also want an RV that can fit in campsites or parking spots that you need to fit in.
You should also consider some of the additional features or options that come included with different types of RVs. The features include a shower, toilet, cooking areas, bunk beds for kids, or even an onboard generator.
Take the time before buying an RV to do some research about what types of RVs are available and which ones fit your needs.
2. Don't Pack Too Much
When you pack too many things in your RV, you may experience issues like lower gas mileage, poor towing stability, and possibly overheating. If you pack so many things in your RV, you may also not be able to access what you need when you need it.
You'll want to find the right balance between bringing what you need and overpacking. Also, consider your trailer's storage spaces and the load you can comfortably carry.
As for what to pack in your RV, you'll want only the necessary things for an RV trip, like food, water, clothing, toiletries, safety gear, and maps or a GPS. Anything else you pack will depend on the specifics of your trip — for example, things like bikes and other outdoor recreational equipment.
3. Seek Proper RV Training
Driving or towing an RV, especially for the first time, can be a stressful experience when you don't know what to do or where to go. Therefore, you need to make sure that you are comfortable driving or towing the RV and know the available resources before heading out.
You can start your research on RVs before you purchase your RV. You might find helpful info online via YouTube videos or online blogs.
RV dealers also have training classes for new RV owners at their facilities. The training provides hands-on instruction for new RV drivers or those who want more experience with their new RV before hitting the road. At Wilkins RV, we provide an ongoing seminar education series, which includes a Driving and Towing course.
4. Plan an RV-Friendly Route
You should always plan your route. If multiple ways to get to your destination are available, consider which one might suit an RV.
Once you find your route, research the road conditions to see if they can accommodate an RV. You can encounter small tunnels or low bridges along your route. And if you aren't expecting the deterrents, you may spend hours rerouting to a safer alternative.
If you're taking a long trip and crossing state lines, you'll also want to check for any tolls or restrictions on your route.
You can easily get carried away with the excitement of getting a new RV and hitting the road. But as a new RV owner, you should approach this experience mindfully. Be aware of these common pitfalls so you can avoid some frustrations that new RV owners can face. You should now be able to overcome the learning curve and have more fun on your adventures.
Contact Wilkins RV today if you need help choosing an RV at a great price.