You're going to absolutely love this sweet, gooey camping s'mores dip! It's super easy to assemble – say goodbye to making s'mores one at a time! – and is the ultimate s'mores treat for your fall camping trips, fall festivals, and even a camping trip themed birthday party. Best of all, you don't even need a campfire, so if Mother Nature sends you a rainy night, make your s'mores indoors and enjoy them with your family along with a fun board game or a movie night.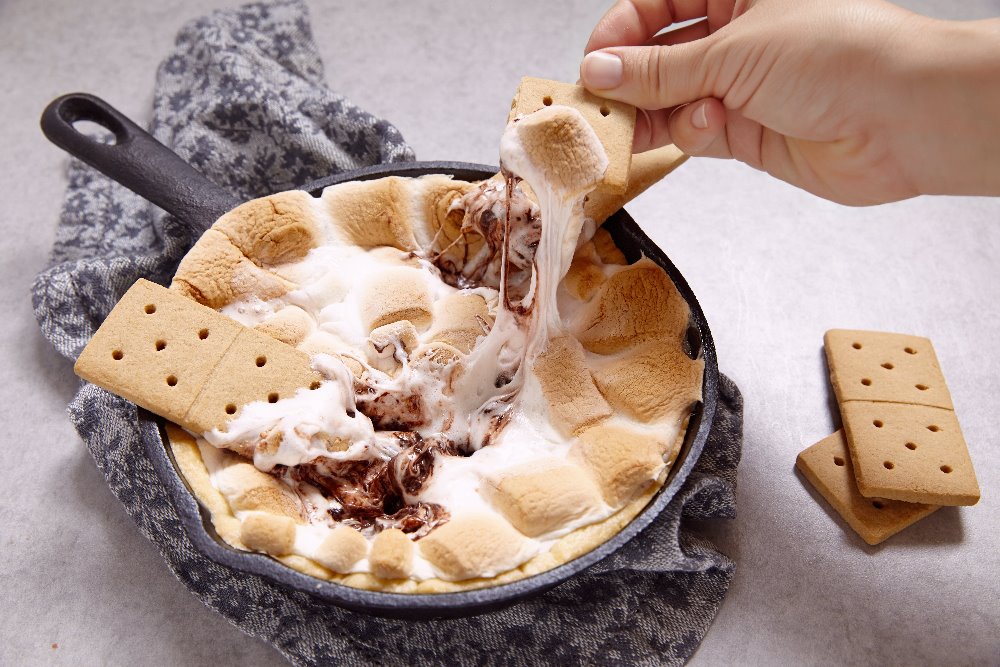 Here's how to make it your s'mores indoors. Make sure you bring along this camping recipe for rainy nights so inclement weather doesn't catch you unprepared!
Ingredients:
1 Tbs butter
2 cups chocolate chips
15-20 marshmallows
Graham crackers
You'll also need:
Iron skillet or other 8×8 oven safe baking dish
Directions:
Heat oven to 400 degrees.
While oven is preheating, place the butter in the skillet and stick directly into the oven.
When butter is melted, remove skillet from oven and swirl the butter around to fully coat the bottom.
Spread the chocolate chips to evenly cover the bottom of the skillet. Top with marshmallows.
Bake for 5-7 minutes until marshmallows are toasted.
Remove (carefully!) and enjoy with graham crackers. (You may want to spoon it onto individual plates since the pan will be hot.)
This is a delicious, kid-friendly camping dessert that your whole family will love. Everyone loves s'mores, but rainy nights can put a damper on campfires and enjoying the camping meals you normally make outside. Having this recipe on standby for when it's raining can ensure you still have a great camping trip regardless of the weather. If you're camping with all your grandkids, it's also a fun and easy recipe they can help assemble. Contact us today if you've been browsing our new and used RVs for sale and have any questions.