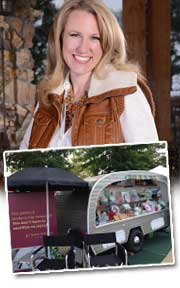 GrassHaven, the leader in modern camping and glamping, is committed to promoting a passion for the outdoors and encouraging families to reconnect with the beauty of nature. Camping doesn't have to be a bad experience. In fact, it can rival a five star hotel thanks to innovations in today's RVs. To help illustrate just how glamorous your next encounter with the Great Outdoors can be we are hosting several seminars taught by GrassHaven president and founder Dawn Bitz.
Making Your RV Feel More Like Home
Saturday, February 28, 2015
10am-11am : Bath location only
In this seminar Dawn will help you turn your RV from just a space to lay your head at night to one where you're truly relaxed and at home. Just like when you move from one house to another, moving into an RV even for a vacation, takes adjustment and time before it becomes your home. If you're not living in your RV full-time, finding shortcuts to keep you feeling at home is even more important. Join us at this seminar to learn how small touches can make a big difference in how you live in your RV. Enjoying a stylish home on the road doesn't have to cost an arm and a leg, after all, home is a state of mind.
Setting Up The Glamp Site
Saturday, February 28, 2015
12pm-1pm : Bath location only
Wondering what glamping actually entails? Join us for this seminar to learn how to make your campsite incredibly luxurious, comfortable and welcoming to your family, friends and guests. Learn how simple touches can make a real difference in your camping experience. You'll discover simple DIY projects that can help put your personal touch on your campsite and take it from "meh" to "wow!"
Interested in attending some of our other camping seminars? Check out other upcoming RV seminars including some from Lippert Parts and RV maintenance.