Come join us for our 7th Annual Coachmen Days Event! With over 100 Coachmen RVs to choose from, this popular event is perfect if you're looking for the lowest price on a brand new Coachmen RV. And, if you've joined us before, you know there's plenty of food, fun, giveaways, and more at our Coachmen Days. Check out the details below!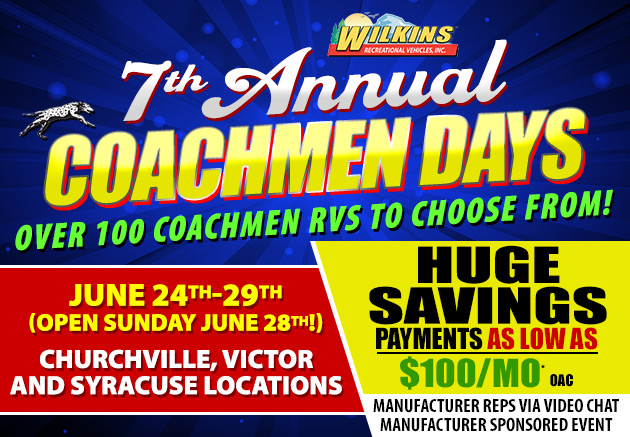 Mark Your Calendars and RSVP
Our Coachmen Days Event runs this week only from June 24 through June 29, so make sure to stop in. And yes, we'll even be open on Sunday, June 28th. It's a limited time frame, with limited inventory, so stop and shop early! You won't regret it! Our Coachmen Days Event will be held at our Churchville, Syracuse, and Victor locations. When you click here to RSVP, it helps us to prepare for expected numbers – so please RSVP today!
This is a manufacturer sponsored event, so you can expect the same great service from our Coachmen RV manufacturer reps as usual – but this time via live video chat! To protect your safety and follow current guidelines, we're still offering the opportunities ask Coachmen RV reps your questions, but in a way that's compliant.
Enormous Savings
We have more than 100 Coachmen RVs in our inventory. Get a head start and begin your online browsing now of all of our Coachmen RVs for sale – it'll help you refine your wish list of what you want in an RV. Then, when you join us for our Coachmen Days Event, you'll already have an idea of what you're looking for, and we can help you compare your favorite units side by side. Many of our Coachmen RVs for sale are priced as low as $100 a month with approved financing, so you can get the RV you want at a price point that is budget-approved!
Giveaways Galore!
On Saturday, June 27th, we'll have snacks and refreshments at our Churchville, Syracuse, and Victor locations. Plus, with the purchase of any new Coachmen RV, we'll gift you with a fantastic wine basket!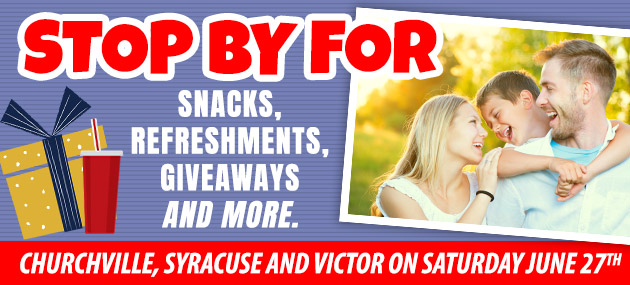 Regardless of when you choose to shop with us during our Coachmen Days Event, the savings are yours. RSVP online today, and contact us with any questions. We can't wait to see you!